News Releases
Friedmann Named Associate Dean of Research at University of Maryland School of Nursing
June 4, 2015
Friedmann will lead the development, implementation, and evaluation of research and scholarship goals.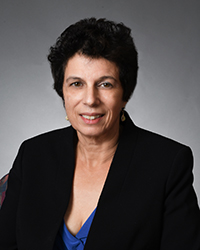 Baltimore, Md. – Jane M. Kirschling, PhD, RN, FAAN, dean, University of Maryland School of Nursing (UMSON), recently announced the appointment of Professor Erika Friedmann, PhD, as associate dean of research. In her new role, Friedmann will provide leadership in the development, implementation, and evaluation of strategies for achieving research and scholarship goals.
Friedmann, a professor in UMSON's Department of Organizational Systems and Adult Health, teaches research methods and statistics to PhD students. Her research focuses on the contributions of social, psychological, and physiological contributors to cardiovascular health. Her research provided the first link between pet ownership and cardiovascular health. Through her research, Friedmann found that pet owners are more likely to survive one year after being hospitalized for heart disease than those who do not own pets.
"Dr. Friedmann has been serving as the interim associate dean since November and has done a wonderful job sustaining the excellence of our research efforts," Kirschling said. "With her depth of knowledge and experience, I am confident that the research program is in great hands under her leadership as she continues to collaborate with faculty members at the School of Nursing, and inter-professionally across the University, to further advance our research agenda."
Friedmann was a founding member of the International Society for Anthrozoology, served as the Society's first president, and is a member of its editorial board. She has contributed more than 150 papers to scientific journals, and collaborates and consults with researchers worldwide on anthrozoological research. Friedmann earned her PhD and Bachelor of Arts degrees from the University of Pennsylvania.
"I am overwhelmed by the support I have received as I entered this position. I look forward to working with the School's administration, faculty, staff, and students to enhance our research and scholarship," Friedmann said.
# # #
The University of Maryland School of Nursing, founded in 1889, is one of the oldest and largest nursing schools, and is ranked sixth nationally. Enrolling more than 1,600 students in its baccalaureate, master's, and doctoral programs, the School develops leaders who shape the profession of nursing and impact the health care environment.