News Releases
University of Maryland School of Nursing's Fahie Leading Collaboration With Baltimore City Public Schools
August 23, 2018
UMSON teaming with Edmondson-Westside and Frederick Douglass high school students and families.
‌‌‌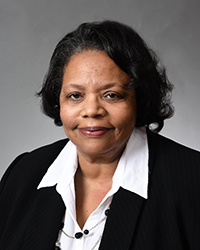 Baltimore, Md.– ‌Vanessa P. Fahie, PhD, RN, assistant professor, University of Maryland School of Nursing (UMSON), was recently awarded another College Preparation Intervention Program (CPIP) grant from the Maryland Higher Education Commission. The $125,000 state award provides funding to institutions participating in the Maryland Gaining Early Awareness and Readiness for Undergraduate Program, funded through a U.S. Department of Education competitive grant designed to increase the number of low-income students who are prepared to enter and succeed in postsecondary education.
Through the CPIP-funded Exploring Health Profession Careers project, in collaboration with Baltimore City Public Schools (BCPS), Fahie and UMSON provide services to Edmondson-Westside and Frederick Douglass high school students and their families; both schools are in West Baltimore. The project fosters career awareness and exploration, college readiness, financial literacy, and increased parental involvement. Students and their families are exposed to diverse options within the health care field in an effort to help overcome the disparity in educational attainment and awareness of health professions career opportunities among low-income students.
"The Exploring Health Profession Careers project leverages resources from public K-12, higher education, and nonprofit entities to address a triple threat — achievement gap, opportunity gap, and learning gap — for students attending low-performing high schools," Fahie said. "It gives students the opportunity to engage in interactive college readiness activities that motivate them to aim higher, study harder, and take the courses required for college admission and success."
Additionally, this partnership allows the organizations to pool resources to develop a creative model to reduce the obstacles that might prevent high school students, particularly African-Americans interested in health professions, from graduating from high school and enrolling in college. The partnership will also increase communication among parents, teachers, and administrators to identify career and educational goals.
"We congratulate Dr. Fahie on receiving further support for her important work fostering awareness of health professions careers among high school students," said UMSON Dean Jane M. Kirschling, PhD, RN, FAAN. "It is essential that we continue to increase the racial, ethnic, and gender diversity of our future health care workforce. Dr. Fahie's efforts to introduce students at an early and impressionable age to the opportunities afforded by a health professions career is a valuable contribution and helps ensure that we will have the nurses and other health professionals needed to care for Maryland's residents in the years ahead."
# # #
The University of Maryland School of Nursing, founded in 1889, is one of the oldest and largest nursing schools in the United States and is in the top 10 nationally for all of its ranked master's and DNP specialties. Enrolling nearly 1,900 students in its baccalaureate, master's, and doctoral programs, the School develops leaders who shape the profession of nursing and impact the health care environment.