News Releases
Fahie Leading Collaboration Between University of Maryland School of Nursing and Baltimore City Public Schools
June 8, 2016
UMSON teaming up with Edmondson-Westside and Frederick Douglass High School students and families.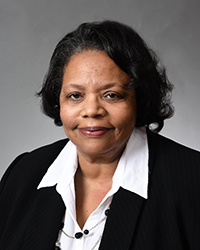 Baltimore, Md. –Vanessa P. Fahie, PhD, RN, assistant professor, University of Maryland School of Nursing (UMSON), has received a College Preparation Intervention Program grant from the Maryland Higher Education Commission. The $149,000 award is in support of the Maryland Gaining Early Awareness and Readiness for Undergraduate Program.
In collaboration with Baltimore City Public Schools, UMSON will provide services to Edmondson-Westside and Frederick Douglass High School students and their families. The Exploring Health Profession Careers project will foster career awareness and exploration, college readiness, financial literacy, and increased parental involvement. Students and their families will also be exposed to diverse collegiate experiences on a health professions campus to help overcome the disparity in educational attainment and awareness of health professions career opportunities among low-income students.
"The achievement gap between students from high-income and low-income families has grown in recent years. This project addresses academic preparation, one of the strongest determinants of postsecondary success for students traditionally underrepresented in higher education," Fahie said. "The rising inequality in K–12 achievement based on family income parallels growing disparities in college enrollment and completion between students from high-income and low-income families."
Through this partnership resources will be pooled to creatively develop a model program to reduce the obstacles that would prevent high school students, particularly African Americans interested in health professions, from graduating from high school and enrolling in college. The partnership will also increase communication between parents, teachers, and administrators to identify career and educational goals.
"I want to applaud Dr. Fahie for her ongoing dedication to strengthening the School of Nursing's collaboration with the Baltimore City Public Schools and for this latest program grant," said UMSON Dean Jane M. Kirschling, PhD, RN, FAAN. "Improving access for Baltimore City students to health profession careers is vital to the future of health care delivery in Maryland and to the health and well-being of our communities. Dr. Fahie brings tremendous creativity, energy, and wisdom to the task of dismantling barriers to high school graduation and entry into the health professions."
# # #
The University of Maryland School of Nursing, founded in 1889, is one of the oldest and largest nursing schools. Enrolling more than 1,700 students in its baccalaureate, master's, and doctoral programs, the School develops leaders who shape the profession of nursing and impact the health care environment.