News Releases
University of Maryland School of Nursing Faculty Members Studying Role of Pet Ownership in Promoting Health of Older Adults
December 1, 2016
Friedmann and team will use data from the Baltimore Longitudinal Study of Aging.
Baltimore, Md. – Erika Friedmann, PhD, professor and associate dean of research, and Barbara Resnick, PhD '96, RN, CRNP, FAAN, FAANP, professor and Sonia Ziporkin Gershowitz Chair in Gerontology, University of Maryland School of Nursing (UMSON), were recently awarded a three-year, $340,000 grant from WALTHAM and Mars Petcare to examine the role of pet ownership in maintaining both physical and mental function in healthy older adults. Through the study, the team will seek to determine if pet ownership is associated with improved maintenance of physical and psychological health-related outcomes in older adults compared to older non-pet owners.
Friedmann, who will serve as principal investigator, is also teaming with National Institute on Aging Intramural Research Program colleagues Eleanor Simonsick, PhD, epidemiologist, Baltimore Longitudinal Study of Aging (BLSA), and Stephanie Studenski, MD, MPH, chief, Longitudinal Studies Section Translational Gerontology and director, BLSA, and with Nancy R. Gee, PhD, professor, SUNY Fredonia, and human-animal interaction research manager, WALTHAM.
The researchers will look at extensive longitudinal data collected over the past decade from BLSA and at pet ownership statistics to determine if there is a link between multiple measures of pet ownership and changes in healthy aging over time.
"I am very grateful for the chance to collaborate with BLSA; it is an exceptional opportunity. BLSA provides rich data that we can leverage to address our questions and we can do so in a very cost-effective manner," Friedmann said. "This grant is instrumental in moving my research and the field of human-animal interaction forward to evaluate the contribution of pets to healthy aging."
WALTHAM is a leading scientific authority in pet nutrition and well-being and has been advancing the frontiers of research into nutrition and the health of pets for more than 50 years. It contributes to understanding the relationships between pets and their owners and has published studies examining the benefits of human-animal interaction.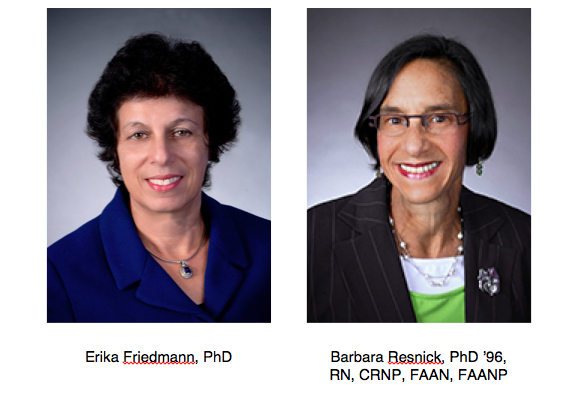 # # #
The University of Maryland School of Nursing, founded in 1889, is one of the oldest and largest nursing schools in the nation and is ranked among the top 10 nursing schools in the United States. Enrolling more than 1,800 students in its baccalaureate, master's, and doctoral programs, the School develops leaders who shape the profession of nursing and impact the health care environment.