News Releases
University of Maryland School of Nursing Names Diaconis Specialty Director of Health Services Leadership and Management Master's Program
May 31, 2018
Assistant professor to oversee development, implementation, and evaluation of HSLM program.
Baltimore, Md. – Dean Jane M. Kirschling, PhD, RN, FAAN, University of Maryland School of Nursing (UMSON), has appointed Assistant Professor Linda Diaconis, PhD, MS '95, BSN '92, RN, specialty director of the Health Services Leadership and Management (HSLM) master's program, effective June 1.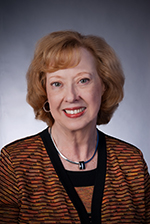 "It is an honor to have been appointed, and as an alumna of the program, I know how important it is to build upon the strong foundation of nursing education in preparing our future health care leaders," Diaconis said. "I am really looking forward to collaborating with colleagues and our partner institutions to foster a teaching and learning environment that inspires students to excel in scholarship and the practice of nursing."
Since her arrival in 2013, Diaconis has been engaged in teaching, research initiatives, and service activities in the HSLM Master of Science specialty, ranked No. 4 in the nation by U.S. News & World Report. In her new role, Diaconis will maintain the integrity of the HSLM program by providing curricular leadership and guidance. She will also continue to recruit, advise, teach, and mentor students.
"Dr. Diaconis is fully engaged in the mission of our School and is very familiar with the workings of the HSLM specialty," said Kathleen Michael, PhD, RN, CRRN, associate professor and chair of the Department of Organizational Systems and Adult Health, in which the HSLM program resides. "Over the years, Dr. Diaconis has demonstrated that she is a committed teacher, research co-investigator, committee member, and professional association leader who exercises mature, authentic leadership. She is conscientious by nature, and with her strong attention to detail and ability to work with many personalities to achieve positive results, I am confident that she will be an asset in this important role."
The HSLM master's specialty prepares students to lead in today's complex health care environment or to become a nurse educator. Students choose a Leadership and Management, Business, or Education focus and take advantage of practica placements with leaders at hospitals and health care systems, universities and community colleges, national and state agencies, and more.
Diaconis earned a PhD in education from the University of Maryland, College Park and Master of Science and Bachelor of Science in Nursing degrees from UMSON.
# # #
The University of Maryland School of Nursing, founded in 1889, is one of the oldest and largest nursing schools in the United States and is in the top 10 nationally for all of its ranked master's and DNP specialties. Enrolling nearly 1,900 students in its baccalaureate, master's, and doctoral programs, the School develops leaders who shape the profession of nursing and impact the health care environment.