News Releases
University of Maryland School of Nursing Dean Emerita Named to American Health Council Board
December 19, 2016
Allan will lend expertise in community health, primary health care, and NP education and practice to board.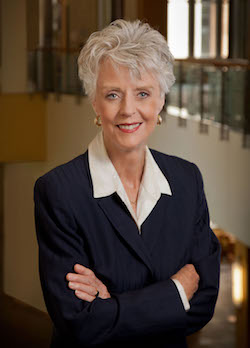 Baltimore, Md. – Dean Emerita Janet D. Allan, PhD, RN, FAAN, University of Maryland School of Nursing (UMSON), has been selected to the American Health Council (AHC) Education Board, an advisory council comprising nationally respected educators and health care industry leaders.
Active in health care for more than 50 years, Allan is an expert in community health, primary health care and research (regarding women and weight management), and nurse practitioner education and practice. As a member of the board, she will help promote ideas that contribute to the health care industry's growth and that foster relationship-building though networking.
"I am honored to be appointed to the education board of the American Health Care Council. Improving the health of populations through the education of future health professionals requires innovative interprofessional approaches," Allan said. "I hope to utilize my clinical and academic nursing knowledge and skills to work with other health care professionals to improve the well-being of the U.S. and global populations."
Allan, who served as UMSON's dean from 2002-12, made a major impact on the School during her decade-long tenure. The School's U.S. News & World Report ranking reached an all-time high of seventh, and UMSON achieved a top-20 ranking among schools of nursing receiving federal research funding. Enrollment rose, making UMSON one of the nation's largest nursing schools.
During her career, Allan has held leadership positions including vice chair of the U.S. Preventive Services Task Force, board member and treasurer of the American Association of Colleges of Nursing, and president of the Southern Nursing Research Society and of the National Organization of Nurse Practitioner Faculty. She also has received the Lifetime Achievement Award from the Maryland Nurses Association, the Researcher of the Year Award from the Southern Nursing Research Society, the Lifetime Achievement Award from the National Organization of Nurse Practitioner Faculties, and the Award for Care of People with AIDS/HIV Infection from the U.S. Secretary of Health, and she is a fellow of the American Academy of Nursing.
AHC is composed of leaders across the health care industry who share their ideas, challenges, and experiences with fellow members to improve our nation's health care system. By connecting participants in patient treatment, educators, researchers, and those in the public and private sectors, AHC works to advance the health care industry.
# # #
The University of Maryland School of Nursing, founded in 1889, is one of the oldest and largest nursing schools in the nation and is ranked among the top 10 nursing schools in the United States. Enrolling more than 1,800 students in its baccalaureate, master's, and doctoral programs, the School develops leaders who shape the profession of nursing and impact the health care environment.