News Releases
Davenport Selected to American Association of Colleges of Nursing's Leadership for Academic Nursing Program
July 9, 2015
Program is tailored to aspiring and new deans.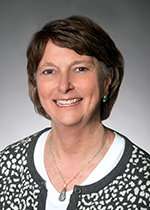 Baltimore, Md. –Joan Davenport, PhD '00, RN, assistant professor, University of Maryland School of Nursing, has been selected to the American Association of Colleges of Nursing's (AACN) Leadership for Academic Nursing Program (LANP). The program will be held July 26-30 in Albuquerque, NM.
LANP is an executive leadership fellowship sponsored by AACN and tailored specifically for new and aspiring deans. The program is designed to prepare a more diverse, younger pool of leaders to shepherd nursing programs across the globe. This professional development experience encompasses an assessment and evaluation of leadership skills, opportunities for strategic networking and case development, consultation for achieving long-term goals, and identification of key partnerships.
"I am very excited about participating in AACN's Leadership for Academic Nursing program. This premier academic leadership intensive brings together an amazing group of diverse leaders from the nursing community, which will make for an invaluable experience," Davenport said. "I am looking forward to networking with faculty members from across the country, exploring lessons learned by these colleagues, and sharing best practices, which will help grow my leadership skills and bring a refined perspective back to my work at the School of Nursing."
Each year since 2002, 40 fellows have been selected to participate in the program. During the program, fellows have their current leadership style and skills critiqued, are presented with mentoring opportunities with an experienced dean, and work to accomplish identified goals. Fellows are vetted through a competitive application process before selection.
AACN is a unique asset for the nation that serves the public interest by setting standards, providing resources, and developing the leadership capacity of member schools to advance nursing education, research, and practice. By 2020, as a driving force for quality health care, AACN will leverage member schools in meeting the demand for innovation and leadership in nursing education, research, and practice.
# # #
The University of Maryland School of Nursing, founded in 1889, is one of the oldest and largest nursing schools, and is ranked sixth nationally. Enrolling more than 1,600 students in its baccalaureate, master's, and doctoral programs, the School develops leaders who shape the profession of nursing and impact the health care environment.