News Releases
Daniels Named Director of Simulation Labs at the University of Maryland School of Nursing
August 11, 2015
New director is overseeing the simulation program, curricula, and expansion of faculty.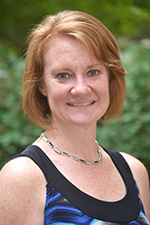 Baltimore, Md. – Jane M. Kirschling, PhD, RN, FAAN, dean, University of Maryland School of Nursing (UMSON), recently announced that Amy Daniels, MS '12, BSN '89, RN, has been named director of UMSON's Debra L. Spunt Clinical Simulation Laboratories. Daniels, a certified health care simulation educator, had served as assistant director of the labs since 2012.
In her new role, Daniels oversees UMSON's simulation program and is responsible for its curricula; expansion of interprofessional faculty development and simulation and debriefing; and increasing opportunities for interprofessional simulation experiences at the University of Maryland, Baltimore.
"I consider it a privilege and honor to be appointed to this position. I am reminded daily of the wealth of resources in these labs and I realize what an amazing opportunity this is to provide our students and community with rich learning experiences," Daniels said.
Daniels received her formal training in simulation and debriefing at the instructor and advanced instructor levels from the Center for Medical Simulation, Harvard University. Her research focuses on psychologically safe learning environments within the context of debriefing and its impact on nursing students' abilities to critically reflect on practice. She has also been named a National League for Nursing LEAD Scholar and a New Nurse Faculty Fellow.
"Amy brings valuable experience and preparation as a simulation educator to this position. While serving as assistant director, she gained extensive working knowledge of the labs that will serve her well in providing leadership for the clinical simulation labs in her new role as director," said Kathryn Montgomery, PhD '97, RN, NEA-BC, associate professor, and chair, Department of Partnerships, Professional Education, and Practice.
# # #
The University of Maryland School of Nursing, founded in 1889, is one of the oldest and largest nursing schools, and is ranked sixth nationally. Enrolling more than 1,600 students in its baccalaureate, master's, and doctoral programs, the School develops leaders who shape the profession of nursing and impact the health care environment.