News Releases
Kirsten Corazzini Joins University of Maryland School of Nursing as Professor and Associate Dean of PhD Program
August 15, 2019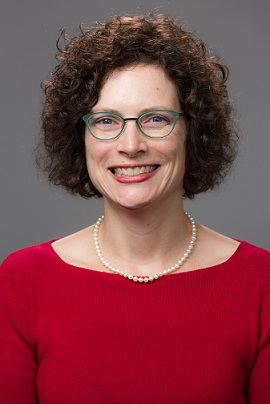 Baltimore, Md. – The University of Maryland School of Nursing (UMSON) has named Kirsten Corazzini, PhD, FGSA, as professor with tenure and associate dean of the Doctor of Philosophy (PhD) program. UMSON's PhD program, which celebrates its 40th anniversary this year, prepares students as researchers and scholars to tackle some of the greatest challenges facing health care, such as aging populations, pain and symptom science, and women's health and birth outcomes.
Corazzini will be responsible for ensuring that graduates of the PhD program are well prepared to engage in research and scholarship that enhance the field of nursing, influence health care, and spark new approaches to scientific questions. She will oversee the recruitment, retention, and advancement of doctoral students; develop and implement new initiatives to advance their research capacity; and facilitate interprofessional interactions and learning.
Corazzini has an extensive background in nursing education and research. She joins UMSON from Duke University, where she was an associate professor with tenure in the School of Nursing, a member of the graduate faculty, and Senior Fellow in the Center for the Study of Aging and Human Development.
"We are delighted to welcome Dr. Corazzini to the University of Maryland School of Nursing," said Dean Jane Kirschling, PhD, RN, FAAN. "She brings a deep commitment to the teaching and mentoring of students at the PhD and post-doctoral levels and to excellence in research and scholarship as evidenced by her impressive record. We look forward to her leadership and innovative ideas as she builds upon the impressive work of Dr. Meg Johantgen and leverages our distinguished 40-year history as the 16th doctoral nursing program in the nation and a program that has continued to be highly ranked."
Corazzini is a renowned researcher with a focus on person-centered long-term care, both domestically and globally; the organizational context of residential long-term care of older adults; and the regulation of nursing care in long-term care internationally. She served as a Fulbright Schuman Scholar from 2015-16 and a senior research fellow with City University of London, Division of Nursing, School of Health Sciences, London, United Kingdom. She has authored more than 80 published research papers and more than 60 abstracts and has contributed to more than 30 research projects that have received more than $4 million in funding. She earned a PhD from the University of Massachusetts-Boston and her undergraduate degree from Bryn Mawr College in Pennsylvania. She was selected as a HERS Fellow in 2017 and has been a Fellow of the Gerontological Society of America since 2012.
Mary (Meg) Johantgen, PhD, RN, who served as the associate dean of the PhD program from 2014-19, is stepping away from her administrative duties and will return to her faculty role as associate professor in the Department of Organizational Systems and Adult Health. While serving as associate dean, she obtained complete tuition funding for four PhD students through the Robert Wood Johnson Foundation Future of Nursing Scholars program. She launched new initiatives to advance student learning in the PhD program, including a manuscript option dissertation, a required class in grant writing, and a "3-minute thesis" competition that taught students how to succinctly and persuasively explain their scientific research to others. She also secured a five-year Nurse Support Program II grant to launch a collaborative statewide effort to promote careers as nurse scientists to undergraduate and graduate nursing students throughout Maryland.
# # #
The University of Maryland School of Nursing, founded in 1889, is one of the oldest and largest nursing schools in the nation and is ranked among the top nursing schools nationwide. Enrolling nearly 2,000 students in its baccalaureate, master's, and doctoral programs, the School develops leaders who shape the profession of nursing and impact the health care environment.