News Releases
University of Maryland School of Nursing's Colloca Awarded National Institutes of Health Grant to Study Chronic Pain
April 27, 2016
Six percent of the population is affected by TMD, a complex chronic pain disorder.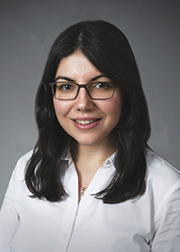 Baltimore, Md. – Luana Colloca, MD, PhD, associate professor, University of Maryland School of Nursing, has been awarded a four-year, $2,132,372, grant from the National Institute of Dental and Craniofacial Research, National Institutes of Health, for the research project Chronic Orofacial Pain: Genetics, Cognitive-Emotional Factors, and Endogenous Modulatory Systems. Colloca will serve as the principal investigator.
Approximately 100 million people suffer from chronic pain, costing the U.S. more than $600 billion annually. Recent studies suggest that genetics plays a major role in pain sensitivity, pain modulation, and the susceptibility to the development of chronic pain and temporomandibular joint disorder (TMD). TMD, a complex chronic pain condition that is influenced by biological, psychological, environmental, and social factors, affects approximately six percent of the population. However, individual responses to chronic pain vary, as some are mildly affected while others suffer from debilitating dysfunction.
In response to this international problem, Colloca's research team has developed a comprehensive genetic, behavioral, and imaging approach. Through this project, researchers will examine the role of genetic variations on behavioral, psychological, and neuronal mechanisms of expectancy-induced analgesia in patients with TMD. Colloca's team aims to determine if the variants in candidate genes are associated with expectancy-induced analgesia, predicting chronic orofacial pain endophenotypes. Additionally, the team will examine if variations in specific identified genes predict expectancy-induced analgesia and related neuronal changes in the prefrontal and limbic areas. The team will also research if individual psychological traits are unique modulators of the complex genetic moderation of expectancy-induced analgesia, regardless of the severity of the disease.
"Chronic pain represents an economic and public health burden in the U.S. and worldwide. The genetic modulation of the endogenous pain inhibitory system partially accounts for inter-individual variability in pain phenotypes," Colloca said. "This project investigates the role of genetic influences on a newly described model, namely expectancy-induced analgesia in patients suffering from orofacial pain. Our team will investigate genetic and brain inhibitory pain mechanisms to identify biological predictors of the variability in clinical human pain phenotypes. We ultimately hope to contribute to a new and successful therapeutic approach."
# # #
The University of Maryland School of Nursing, founded in 1889, is one of the oldest and largest nursing schools. Enrolling more than 1,700 students in its baccalaureate, master's, and doctoral programs, the School develops leaders who shape the profession of nursing and impact the health care environment.