News Releases
University of Maryland School of Nursing Receives $750,000 Gift from Alumna Mary Catherine Bunting
March 1, 2016
School pairing with Maryland Family Network to improve health oversight of Head Start programs.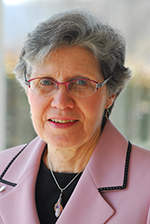 Baltimore, Md. –The University of Maryland School of Nursing (UMSON) has received a $750,000 gift from Baltimore benefactor Mary Catherine Bunting, MS '72, CRNP, RN. Through this gift, UMSON, in collaboration with the Maryland Family Network, will support the development and implementation of a new, three-year community public health initiative.
This partnership will focus on improving overall health and environmental health within Early Head Start (EHS) and Head Start (HS) Centers in Baltimore City. EHS and HS programs support the mental, social, and emotional development of children from birth until age 5. Educational services are offered to children and their families, in addition to health, nutrition, and social resources. The initiative will deliver health services to eight EHS centers serving 390 children up to three years of age, beginning in fall 2016. Needs assessments for four HS grantees serving 2,680 children will begin in the second year of the program. Additionally, this program will assist the EHS centers with becoming certified as Eco Healthy Child Care® Centers, which will ensure that centers meet the evidence-based recommendations to protect children from known environmental hazards. Approximately 600 child care facilities in the United States are currently certified as Eco-Healthy; however, only 22 facilities are certified in Maryland, none of which are EHS or HS.
"Low-income families are at particularly high risk for multiple health disparities. This is an opportunity to identify and prevent those risks in very young children before it's too late," said Margaret E. Williams, executive director, Maryland Family Network. "We are very pleased to partner on this life-saving and life-changing initiative."
Students from UMSON's RN-to-Bachelor of Science in Nursing option and Master of Science programs will staff the initiative as part of the School's on-going service learning commitment. They will help coordinate health care services for children and families enrolled in EHS, including record reviews, regular health screenings, and follow-up home visits for children with chronic conditions, such as asthma, and home visits for pregnant women and new mothers. Students will also provide training on emergency preparedness, basic principles to keep families healthy, and other topics of interest to EHS staff and parents.
"The University of Maryland School of Nursing is a strong supporter of providing children with quality early learning environments and helping to build solid families," said UMSON Dean Jane M. Kirschling, PhD, RN, FAAN. "We are very grateful to Ms. Bunting for affording us the opportunity to team with the Maryland Family Network on this high-impact public health initiative that will reach thousands of children. This will serve as a significant opportunity to improve our local communities."
# # #
The University of Maryland School of Nursing, founded in 1889, is one of the oldest and largest nursing schools, and is ranked eleventh nationally. Enrolling more than 1,700 students in its baccalaureate, master's, and doctoral programs, the School develops leaders who shape the profession of nursing and impact the health care environment.