News Releases
University of Maryland School of Nursing's Bindon Receives AACN's Excellence and Innovation in Teaching Award
October 5, 2016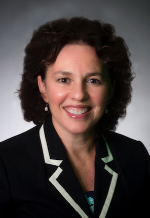 ‌The award recognizes UMSON faculty member as a highly-skilled, innovative, and creative teacher.
Baltimore, Md. –Susan L. Bindon, DNP '11, RN-BC, CNE, assistant professor, University of Maryland School of Nursing (UMSON), has been awarded the American Association of Colleges of Nursing's (AACN) Excellence and Innovation in Teaching Award.
The award recognizes excellence and innovation in the teaching of nursing at AACN member schools by faculty with more than five years of teaching experience. Bindon has taught for 25 years, and has been on UMSON's faculty for five.
"I'm tremendously honored to receive this year's AACN Excellence and Innovation in Teaching Award. Helping others to become good teachers is both a professional privilege and a personal joy," Bindon said. "Good teaching requires thought, intentional practice, and openness to new ideas, but it also entails listening carefully to understand the learner's needs, expectations, and readiness to learn, which creates fertile ground for innovation. Effective teaching attracts great students who will become tomorrow's excellent nurses."
Awardees must demonstrate significant innovation in teaching/learning approaches to promote learner outcomes; lead the promotion and implementation of innovative teaching/learning approaches in nursing education; and act as a role model for creating and sustaining a culture in nursing education that integrates theory and practice. Additionally, the award winner is required to have mentored faculty in evidence-based teaching/learning approaches and shared innovation outside of their home institution.
Bindon is known for working with peers to address instructional challenges and helping them determine the best teaching strategies for their particular classroom, online, or clinical setting. She encourages her students and advisees to use her large "thinking-wall" strategy through which they sketch their ideas and projects as they think aloud. She also connects with students in her online courses via personalized video feedback during the semester. Additionally, Bindon has helped develop and deliver an adjunct clinical faculty workshop for new clinical instructors that has been offered four times in the past year, reaching approximately 70 clinical faculty throughout Maryland. The course includes interactive exercises and utilizes standardized students who model the concept of standardized patients to simulate clinical encounters.
"We are enormously proud of Dr. Bindon. She has distinguished herself as a highly skilled, innovative, creative teacher. As a mentor to her students, she models innovative techniques that engage them in their own learning, while expanding their sense of what teaching looks like," said UMSON Dean Jane M. Kirschling, PhD, RN, FAAN. "Dr. Bindon's enthusiasm for the teaching enterprise, and her willingness to extend herself to assist veteran and novice teachers and clinical faculty members, makes her an outstanding colleague. Her influence is felt throughout the School of Nursing, as well as regionally and nationally. We congratulate her on this prestigious recognition of her contributions to teaching."
AACN is the national voice for baccalaureate and graduate nursing education. AACN works to establish quality standards for nursing education; assists schools in implementing those standards; influences the nursing profession to improve health care; and promotes public support for professional nursing education, research, and practice.
# # #
The University of Maryland School of Nursing, founded in 1889, is one of the oldest and largest nursing schools in the nation. Enrolling more than 1,700 students in its baccalaureate, master's, and doctoral programs, the School develops leaders who shape the profession of nursing and impact the health care environment.