News Releases
Bindon Named Post-Masters DNP Specialty Director at University of Maryland School of Nursing
January 22, 2018
Specialty director to oversee academic trajectory of DNP students.
Baltimore, Md. – Susan L. Bindon, DNP '11, MS '95, RN-BC, CNE, assistant professor, University of Maryland School of Nursing (UMSON), has been appointed specialty director of UMSON's Post-Master's Doctor of Nursing Practice (DNP) option. Bindon has been a member of UMSON's faculty since 2011.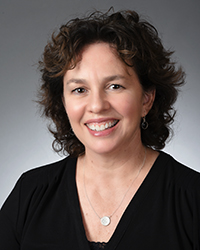 In her new role, Bindon is responsible for providing curricular leadership for DNP core coursework and overseeing the academic trajectory of approximately100 post-master's DNP students. She will also provide leadership in program coordination; curriculum planning; and student recruitment, retention, and advisement.
"I'm happy to begin this new role working with the post-master's DNP students and faculty," Bindon said. "Our DNP graduates have made remarkable impacts on patient outcomes, systems leadership, policy, and education. I look forward to seeing their influence continue to grow."
The new specialty director maintains a faculty practice at the University of Maryland Medical Center's Center for Professional Practice and Development. She is certified as both an academic and hospital-based educator.
"Dr. Bindon has an extensive clinical, professional development, and academic background, including teaching in clinical, classroom, and online environments, which makes her an excellent fit for this position," said Shannon Idzik, DNP '10, MS '03, CRNP, FAANP, FAAN, associate professor and associate dean for the DNP program. "She has a passion for developing others and an amazing ability to think creatively. Her leadership skills make me confident that she will excel in her new role."
Bindon earned a DNP, master's degree, and post-graduate teaching certificate from UMSON and a Bachelor of Science in Nursing degree from the University of Pittsburgh.
# # #
The University of Maryland School of Nursing, founded in 1889, is one of the oldest and largest nursing schools in the nation and is ranked among the top 10 nursing schools in the United States. Enrolling more than 1,900 students in its baccalaureate, master's, and doctoral programs, the School develops leaders who shape the profession of nursing and impact the health care environment.