News Releases
University of Maryland School of Nursing's Wiseman Leads Work Group in Revising State Nursing Articulation Plan
December 14, 2017
Articulation agreement revision received unanimous support.
Baltimore, Md. – Rebecca Wiseman, PhD '93, RN, associate professor and chair of the University of Maryland School of Nursing (UMSON) at the Universities at Shady Grove (USG), served as project coordinator for the recently revised Maryland Nursing Articulation Plan. The original Maryland Nursing Articulation Plan, which dates back to 1985, set the stage for several other articulation plans in the state of Maryland.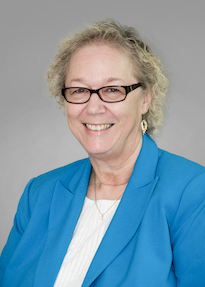 "The articulation model serves as a roadmap for colleges and universities as they plan and provide academic progression models for registered nurses. It allows us to adequately address the barriers encountered by registered nurses as they continue their education, which is crucial as we strive to adhere to the Institute of Medicine's (IOM) Future of Nursing recommended goal of 80 percent of registered nurses prepared at the Bachelor of Science level by 2020," Wiseman said. "The revision to the Maryland articulation plan reflects the current practices in transfer of credits, prerequisite requirements, and dual admission/dual enrollment programs."
Maryland is one of four states predicted to experience a shortage of 10,000 registered nurses or more by 2025. Through the Maryland Action Coalition (MDAC), formed in 2011 in response to the IOM report, the state has been promoting seamless academic progression to baccalaureate programs as a solution and top priority. In response, the dual-admission articulation model was created, allowing students to apply and be admitted to a Bachelor of Science (BSN) program while in an Associate Degree in Nursing program at a community college. These new approaches and commitments to academic progression models needed to be reflected in the articulation plan to assure consistency across colleges and universities.
In 2015, Wiseman solicited the Maryland Council of Deans and Directors of Nursing Programs (MCDDNP), currently chaired by Nina Trocky, DNP, RN, NE-BC, CNE, assistant professor and associate dean for the baccalaureate program at UMSON, to form a work group to review the articulation plan. Wiseman led the six-member group in discussing and revising the plan.
"Dr. Wiseman was instrumental in coordinating the Maryland Council of Deans and Directors of Nursing Programs to develop an articulation document that more accurately supports nursing education and, specifically, the attainment of the BSN," Trocky said. "MCDDNP is committed to developing a competent nursing workforce who provides high-quality care to the citizens of Maryland. This revision minimizes barriers to academic progression, thereby supporting this goal."
The work group presented a final draft of the revised articulation agreement to the MCDDNP in December 2016, and after review, a subgroup submitted recommendations to MCDDNP in February 2017. In May 2017, MCDDNP members voted on the revision, resulting in 100-percent acceptance. The Maryland Higher Education Commission endorsed the articulation agreement in November.
"Drs. Wiseman and Trocky are to be commended for their forward thinking and tireless efforts in actualizing the 2017 Maryland Nursing Education Articulation Agreement for the Maryland Higher Education Commission. MDAC has focused on ensuring that the state has a well-educated nursing workforce," said MDAC co-lead Patricia Travis, PhD '99, MS '76, BSN '69, RN, CCRP, senior associate director, clinical research, Johns Hopkins University School of Medicine." Although the newly released HRSA report for 2014-30 projects that Maryland is no longer in danger of experiencing a shortage of registered nurses, the future is still uncertain. Promoting seamless academic progression is one strategy to meet Maryland's upcoming nursing demands."
The effort to revise the Maryland Nursing Articulation Plan was funded through grants from the Robert Wood Johnson Foundation and AARP's Future of Nursing: Campaign for Action State Implementation Plan IV and the Maryland Higher Education Commission's Nurse Support Program II.
# # #
The University of Maryland School of Nursing, founded in 1889, is one of the oldest and largest nursing schools in the nation and is ranked among the top 10 nursing schools in the United States. Enrolling more than 1,900 students in its baccalaureate, master's, and doctoral programs, the School develops leaders who shape the profession of nursing and impact the health care environment.