News Releases
University of Maryland School of Nursing's Antol Named University of Maryland, Baltimore's Public Servant of the Year
October 24, 2017
Antol is the third UMSON faculty member to be named Public Servant of the Year.
Baltimore, Md. – Susan Antol, PhD, MS '79, RN, assistant professor, University of Maryland School of Nursing (UMSON), was named the University of Maryland, Baltimore's (UMB) 2017 Public Servant of the Year during its annual Founders Week. Antol is the ninth UMSON faculty member to receive a Founders Week Award since the celebration was initiated in 1996.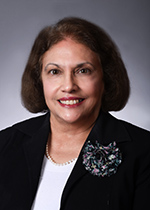 Antol joined UMSON in 1998 as director of clinical operations for an array of the School's nurse-managed clinics, including the Governor's Wellmobile Program, a mobile health clinic; Open Gates, a nurse-managed primary care clinic affiliated with University Care; and school-based health centers. She also served as a clinical instructor in community health nursing, bringing with her more than two decades of experience in community and home health care nursing. Since 2009, Antol has served as director of the Wellmobile, established in 1994, which provides health care services in underserved areas ranging from Maryland's Eastern Shore to Prince George's and Montgomery counties and Western Maryland.

Despite the thousands of patients it treats annually, Wellmobile state funding was cut in half in 2009. Antol diligently pursued grants and partnerships, acquiring three years of funding from CareFirst BlueCross BlueShield and $1.04 million from the Health Resources and Services Administration; she also collaborated with the School of Pharmacy on a $1.2 million Maryland Community Health Resources Commission Grant, all of which has kept the Wellmobile running.

"One of the many things that sets Dr. Antol's work apart is the breadth and reach of her activities — both programmatically and geographically," said UMSON Dean Jane M. Kirschling, PhD, RN, FAAN. "Applying her understanding of community health nursing, her organizational and leadership skills, and her personal attributes of perseverance and tenacity, she has brought health care services to vulnerable individuals in all parts of the state, including at-risk children and youth, the homeless, migrant workers, veterans, and victims of human trafficking, as well as to those living in unserved or underserved areas. She is someone with enormous resilience in the face of setbacks and with strength of character and will to not give up."
Each year, UMB celebrates the achievements and successes of its students, faculty, staff, alumni, and philanthropic support and pays tribute to its 200-plus-year history. As part of the celebration, awards are presented in four categories: Researcher of the Year, Public Servant of the Year, Teacher of the Year, and Entrepreneur of the Year. Nominees for Public Servant of the Year must have engaged in service that addresses the unmet needs of underserved health, school, and social service populations of Maryland, particularly among the disadvantaged, and must be worthy of recognition relative to peers in their chosen field.

"It is truly an honor to be selected as the recipient of this award because it highlights the impact that innovative models of care can have on population health," Antol said. "UMSON's leadership, the Partnership, Professional Education and Practice department, and the Wellmobile team have provided me with the opportunity to lead and to oversee the transition of the Wellmobile Program to a new interprofessional primary care delivery and educational model aligned with the current health systems transformation."
Past UMSON Founders Week Award winners include Karen L. Soeken, PhD, Teacher of the Year 1998; Barbara Resnick, PhD '96, RN, CRNP, FAAN, FAANP, Researcher of the Year 2003; Rebecca Wiseman, PhD '93, RN, Public Servant of the Year 2006; Carol Romano, PhD '93, MS '85, BSN '77, RN, BC, CNAA, FAAN, Illustrious Alumni 2006; Jane Lipscomb, PhD, RN, FAAN, Researcher of the Year 2008; Robin Newhouse, PhD '00, RN, NEA-BC, FAAN, Researcher of the Year 2014; Karen Kauffman, PhD, RN, CRNP, FAAN, Public Servant of the Year 2014; and Louise S. Jenkins, PhD '85, MS '81, RN, FAHA, ANEF, Teacher of the Year 2016.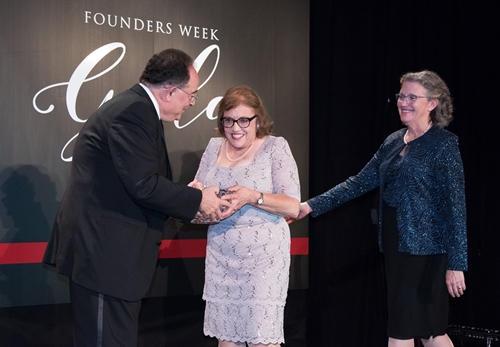 # # #
The University of Maryland School of Nursing, founded in 1889, is one of the oldest and largest nursing schools in the nation and is ranked among the top 10 nursing schools in the United States. Enrolling more than 1,900 students in its baccalaureate, master's, and doctoral programs, the School develops leaders who shape the profession of nursing and impact the health care environment.