News Releases
Hammersla and Windemuth Serving In New Leadership Roles at University of Maryland School of Nursing
August 24, 2017
Assistant professors earn departmental promotions.
Baltimore, Md. – Assistant Professors Margaret Hammersla, PhD '17, MS '05, BSN '95, CRNP, and Brenda Windemuth, DNP '11, RN, CRNP, have been appointed to new leadership roles within the University of Maryland School of Nursing's (UMSON) Department of Organizational Systems and Adult Health. Hammersla, who most recently served as co-specialty director for the Adult-Gerontology Primary Care Nurse Practitioner (AGPCNP) specialty, has been named senior director of the School's Doctor of Nursing Practice (DNP) program, and Windemuth takes over Hammersla's old post as co-specialty director for the AGPCNP specialty.
Hammersla has been an UMSON faculty member since 2007, serving as co-specialty director for the AGPCNP specialty since 2011. She is responsible for the daily operations of the DNP program at UMSON, including the development, implementation, and evaluation of the DNP program's policies and procedures.
"I am thrilled to take on the role of senior director of the DNP program. This is an exciting opportunity to be part of a team that delivers high-quality, advanced nursing education," Hammersla said. "I look forward to working with our faculty as we educate doctorally prepared nursing leaders to improve patient care at the local, state, and national levels."
Hammersla also provides leadership in program coordination; curriculum planning; student recruitment, retention, and advisement; and general support to the DNP specialty directors. She earned a doctorate degree in nursing research, master's degree in adult primary care, and Bachelor's of Science in Nursing degree from UMSON.
"Dr. Hammersla brings more than 10 years of experience teaching at UMSON and a wealth of leadership and operational experience in advanced practice education," said Shannon Idzik, DNP '10, MS '03, CRNP, FAANP, associate professor and associate dean for the DNP program, UMSON. "She was a key leader during the development of the BSN-DNP program and is vested in its success. I am confident that she will continue to lead and support the mission of the School."
Windemuth has been on the faculty since 2009. Her new duties include working with Barbara Resnick, PhD '96, RN, CRNP, FAAN, FAANP, professor and Sonia Ziporkin Gershowitz Chair in Gerontology, to co-direct the development, implementation, and evaluation of DNP-level didactic and clinical courses related to the AGPCNP specialty. She also recruits, advises, teaches, and mentors students.
"I'm very excited to take on this leadership role in the AGPCNP program, and to continue the success the program has had previously. I look forward to helping guide our students to be successful in the program and our graduates contributing to our profession as doctorally prepared nurse practitioner leaders," Windemuth said. "I want to continue moving our program forward in providing new educational experiences and learning opportunities to enrich our students' education.
Additionally, Windemuth is working with faculty members to foster professional development. She earned a DNP in nursing from UMSON, and a master's degree in Family Nurse Practitioner and a Bachelor of Science in Nursing degree both from Wilmington University.
"I am delighted that Dr. Windemuth will be taking on this new leadership role in the AGPCNP Specialty. As an experienced educator and active clinician, she is committed to providing the best opportunities for student success," said Kathleen Michael, PhD, RN, CRRN, associate professor and chair of the Department of Organizational Systems and Adult Health. "She is a valued colleague and trusted collaborator who approaches her work with dedication and vision. Her leadership will guide the specialty toward a bright future indeed."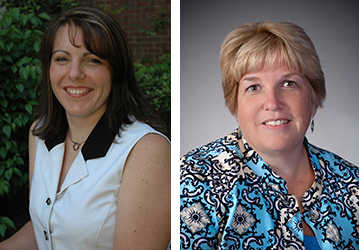 # # #
The University of Maryland School of Nursing, founded in 1889, is one of the oldest and largest nursing schools in the nation and is ranked among the top 10 nursing schools in the United States. Enrolling more than 1,800 students in its baccalaureate, master's, and doctoral programs, the School develops leaders who shape the profession of nursing and impact the health care environment.