News Releases
A Year Like No Other
April 8, 2021
By Mary Therese Phelan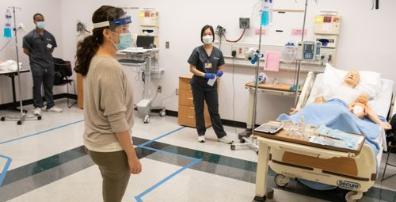 While many would describe the past year with words such as challenging, difficult, lonely, and fearful, that only paints a partial picture for University of Maryland School of Nursing (UMSON) faculty, staff, and students, who, in the midst of the chaos of a pandemic year, found adaptive, flexible, resourceful, and innovative ways to continue working and learning.
Stay-at-home orders in March 2020 left everyone suspended in freeze-frame fashion, emptying offices and classrooms on extremely short notice. Remote learning and telework, first thought to be needed only for the short term, soon became a way of life for the UMSON community. Yet, even as the world stood still in one sense, to maintain the rigorous standards required for educating the state's nursing workforce, UMSON discovered new paths forward.
After all, 2020 was not only the year of a global pandemic, as designated by the World Health Organization, it was also the International Year of the Nurse.
A look back at a year like no other:
New Ways of Learning
The need to maintain safety protocols meant quick-thinking faculty and staff had to determine new ways to adapt to a changing educational landscape nearly overnight. How do students participate in remote instruction and stay engaged with their peers and teachers? How do educators keep content fresh and teach critical nursing skills that are typically taught in person?
COVID-19 put a halt to clinical placements, environments where students typically learn essential skills through interactions with patients under the supervision of a faculty member. University of Maryland, Baltimore (UMB) guidelines put in place on March 21 informed students that all in-person experiential learning activities with patients and clients were to be halted and converted to virtual activities such as distance simulation.
UMSON purchased high-fidelity software that simulates patient care in 3-D modeling, providing students at all levels with learning experiences similar to virtual reality alternatives, but with no special glasses needed. Similar software programs are used for military, surgical, and submarine training. The software, on three different platforms, vSim for Nursing, I-Human Patients, and DocuCare, simulates nursing scenarios using virtual patient encounters.
Herculean efforts by faculty, staff, and partner institutions resulted in reopening the doors to experiential learning by the start of UMSON's 2020 summer semester. With a host of safety protocols in place, students were participating in face-to-face simulation and in clinical experiences at the University of Maryland Medical Center (UMMC).
While participating in clinicals, students did not have contact with any COVID-19 positive patients. In addition, the school worked to ensure that students had appropriate personal protective equipment (PPE), supplied by UMSON and participating partner health care institutions. Students were required to be "fit tested" to make sure their PPE fit properly. They also learned "donning and doffing" techniques to make sure they knew how to safely put on and take off the equipment.
"Nursing education has to be hands on. You can't do it from a distance, at least at these levels," Larry Fillian, MEd, associate dean for student and academic services, had said.
Because UMSON already places a strong emphasis on the value of experiential learning in simulated environments as critical to preparing a skilled nursing workforce and to improving health care outcomes, with 28 state-of-the-art simulation labs between its Baltimore and Universities at Shady Grove locations, "we are in a better position than a lot of other schools of nursing," Maeve Howett, PhD, APRN, CPNP-PC, CNE, professor and associate dean for baccalaureate education, said at the time.
By early June, students had returned to in-person instruction in UMSON's Clinical Simulation Labs, which reopened with adherence to strict safety protocols under the direction of Amy L. Daniels, PhD '18, MS '12, BSN '89, RN, CHSE, assistant professor and director of the Clinical Simulation Labs.
UMSON coordinated extensively with UMB's Office of Environmental Health and Safety regarding protocols for cleaning the simulation labs between each session and with the Office of Facilities and Operations to map out the number of people permitted in an area at a time and to determine the proper PPE for that specific space.
Students also returned to experiential learning through virtual standardized patient simulation, allowing them to gain clinical experience through a variety of communication-based and physical exam simulations at a time when such instruction at partner health care institutions was on hold due to the pandemic.
In December 2020, as the pandemic continued to impact nursing education­ and in response to Hogan's request that nursing programs encourage student engagement in caring for hospitalized COVID-19 patients and in assisting with COVID-19 screenings and vaccines, UMSON strongly encouraged its entry-into-practice students scheduled to graduate in spring 2021 to begin participating in clinical experiences and community/public health rotations as soon as possible, before the Jan. 28 start of the spring 2021 semester.
This voluntary option was offered to Bachelor of Science in Nursing (BSN) and Clinical Nurse Leader (CNL) master's option students, as the second large surge of COVID-19 patients affected nurse staffing at UMSON's partner agencies and institutions.
"I thank the University of Maryland School of Nursing leadership and its students for stepping up and demonstrating their continued active commitment to service in the midst of this pandemic," said James D. Fielder Jr., PhD, secretary of higher education, Maryland Higher Education Commission. "The opportunities for students to accelerate their academic schedule in order to actively contribute during the current COVID-19 surge is deeply appreciated. The state of Maryland thanks you."
In all, 65 BSN and 13 CNL students participated in the early clinical experiences.
Early Exit
In April 2020, Maryland Gov. Larry Hogan requested the state's nursing school graduates be offered an "early exit" option in an effort to bolster the nursing workforce during the pandemic. The governor's request, combined with UMSON's assessment of students' readiness, resulted in an early-exit option being made available to select students in the entry-into-practice BSN program and CNL master's option who were scheduled to graduate in May 2020. As a result, 62 BSN and 45 CNL students took advantage of the early-exit option to begin their professional nursing careers.
The School of Nursing collaborated with the chief nursing officers of major hospital systems and ascertained their need for and interest in hiring nursing graduates and designed a protocol for linking UMSON's early-exit students to these institutions, which in addition to the University of Maryland Medical System (UMMS) and Johns Hopkins Medicine included MedStar Health, Holy Cross Health, and Shady Grove Adventist.
"The UMSON students opting into our early-exit option are well prepared and fully equipped to make a major contribution through their service as nursing graduates. I salute those students eligible and willing to serve under this unique initiative," said Jane M. Kirschling, PhD, RN, FAAN, the Bill and Joanne Conway Dean of the University of Maryland School of Nursing.
In November 2020, based on the success of the first offer of the early-exit option and in response to the pandemic's widespread community transmission across the state, Hogan again requested qualified entry-into-nursing students ready to graduate in December be offered an early-exit option to enter the workforce. All 138 graduating BSN students exited early on Nov. 30, provided successful completion of fall courses. Graduating CNL students were also given the option to exit upon meeting specific GPA and academic program requirements. In all, 150 students exited early.
A Shot of Hope: Vaccines
In January 2021, a dozen CNL students began administering Moderna and Pfizer COVID-19 vaccines at the UMB Southern Management Corporation (SMC) Campus Center, where officials from UMMC, UMMS, and UMB established a fully operational clinic for health care workers and other front-line personnel. The students, who were participating early in their spring 2021 community/public health clinical rotation, were required to do 14 hours over several shifts at the clinic, but once they met their commitment, they were welcome to work as many shifts as they wanted or were able to in a voluntary capacity.
Under faculty supervision, the experience allowed students to gain hands-on training while assisting in curbing the spread of the pandemic.
"The School of Nursing gave us this option, given the need for skilled staff on the front lines and uncertainty around the availability of clinical sites in the spring 2021 semester," said CNL student Kelly Doss, BA. "At the same time, the School began reaching out to us about the possibility of helping with COVID-19 vaccination efforts. I was excited to potentially contribute to this effort."
In March 2021, UMB took over management of the SMC vaccination clinic, now overseen by Kirschling and staffed by volunteers made up of UMB faculty and staff, UMB's Office of Emergency Management, and students University-wide. "We know that we need to get as many people vaccinated as possible in order to get to the other side of this pandemic," Kirschling said. "To have our students be able to play such an essential role in this process means a great deal. Especially because we're also giving back to the community in the process, which is so important."
The clinic is open for appointment only to Baltimore City residents who have been referred by the Baltimore City Health Department (BHCD) as well as eligible faculty, staff, and students from UMB and UMMC. The central position of the SMC Campus Center provides a convenient location for West Baltimore residents to get vaccinated and an opportunity for students to get clinical experience.
Organizers of the clinic are working to collaborate with several local organizations to reach specific, at-risk populations in the Baltimore area. These organizations include the Centers for Medicare & Medicaid Services, the Esperanza Center to reach Spanish-speaking individuals, and the Indian Health Service to reach individuals of Native American descent. In addition, UMB's Community Engagement Center has started a canvassing effort to help West Baltimore residents get signed up for the vaccine through the BCHD website.
Pomp Under Unusual Circumstances
On May 14, 2020, UMSON held its first virtual degree conferral ceremony in its 131-year history, allowing graduates, their guests, faculty, and staff to mark the occasion in a celebratory but safe way. The unique ceremony included a photo montage of May graduates, an address by Kirschling, the conferral of degrees by UMB President Bruce E. Jarrell, MD, FACS, and a recitation of the professional nursing pledge.
In what has become a familiar scene to anyone working or learning from home during the pandemic, UMSON faculty and administrators also took part in the ceremony, visible in each of their own screens, dressed in full graduation regalia. Associate deans offered congratulatory remarks and expressed hopes for celebrating the students' accomplishments at an in-person ceremony one day.
The virtual program was watched by more than 1,100 graduates, guests, faculty, staff, and alumni.
Nurses Week in early May 2020 also was transformed into a fully digital experience. The week typically incorporates the tradition of uniform stringing and scrub-top decorating, and those activities, too, went digital. Graduates submitted photos of decorated scrub tops worn during their experiential learning activities or virtual versions using a digital scrub top template. The community voted for most creative, funniest, and best overall categories. UMSON announced the winners in a virtual stringing video on its Facebook page.
Jarrell again conferred degrees on Dec. 17, 2020, to UMSON's July and December graduates in the School's first winter virtual conferral of degrees in UMSON's history. The virtual event was attended by more than 700 people.
Mask Makers
When cloth face masks were in short supply for front-line workers at UMMC in the early stages of the pandemic, the UMSON community quickly went to work organizing a campaign that led to the donation of more than 12,000 masks to the hospital. The effort was launched by Susan G. Dorsey, PhD '01, MS '98, RN, FAAN, professor and chair of UMSON's Department of Pain and Translational Symptom Science, along with volunteer Deb Greenspan, a retired seamstress for the Baltimore Ravens. An email sent to UMSON's faculty, staff, students, and alumni was passed on to friends, family, neighborhood associations, church groups, quilting clubs, and sewing circles. Some UMSON students, such as Maria Segovia, BSN '20, had no previous sewing experience but after a few YouTube tutorials were delighted to participate in the project.
The masks, created in all manner of colors and designs, were provided to patients, visitors, and staff working in non-direct patient care, allowing the hospital to preserve medical-grade masks for those providing direct patient care.
Kirschling described the response from the School's alumni, faculty, staff, and students as overwhelming. "This is an opportunity for us to give back to the clinicians who every day are providing care in the medical center," she said at the time. "While they're trying to juggle the dynamics of COVID-19, we wanted to do something that we could do easily from our homes, and the ability to sew cloth masks and make those available to the individuals who are working inside the medical center has meant a great deal to us."
Lisa Rowen, DNSc, MS '86, RN, CENP, FAAN, UMMS chief nurse executive and an adjunct professor at UMSON, assisted in distributing the masks inside the hospital. "The masks are very much needed because we are keeping our medical-grade masks for our staff," she said. "And this way, all of us who are not taking care of patients directly are able to have a barrier and protection and it keeps our environment safer."
This is but a brief glimpse of the many ways UMSON has overcome challenges and created solutions while the pandemic continues. Read more stories related to UMSON's response to COVID-19.