News Releases
A Safe Place to Isolate
August 12, 2020
UMSON faculty member leads public health mission to prevent the spread of COVID-19.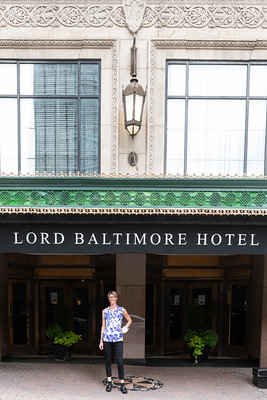 When the COVID-19 pandemic struck, Marik Moen, PhD '18, MPH, RN, assistant professor, who teaches and has a clinical practice in community/public health nursing, sought to help the populations she serves to be safe, collecting face masks for patients living with HIV. But she sensed the need for deeper involvement in the COVID-19 response. A few weeks later, Charles "Chuck" Callahan, DO, vice president of population health, University of Maryland Medical Center (UMMC), invited Moen to serve as the director of nursing at the Lord Baltimore Hotel Triage, Respite, and Isolation (TRI) Center in downtown Baltimore. The center is one of the only isolation hotels of its type in the state and one of a few dozen isolation sites nationally.
In March, the Baltimore City Mayor's Office of Homeless Services and the Baltimore City Health Department (BCHD) identified the need for isolation space for people with known or suspected COVID-19 to prevent outbreaks in congregate living settings. These patients were initially placed in a hotel setting where they received support from outreach workers, but BCHD quickly realized the need for more support to ensure clinical stability, triage to higher levels of clinical care when needed, and determine a timeline for isolation completion.
In early May, the Mayor's Office and BCHD negotiated a partnership with the Lord Baltimore Hotel and the University of Maryland Medical System (UMMS) to establish the TRI Center to support residents with known or suspected COVID-19 who do not require hospitalization and are unable to self-isolate. The center opened to residents on May 12 with a public health mission to prevent the spread of disease.
Residents at the TRI Center can be self-referred or are referred from emergency rooms, health care facilities, or congregate living facilities (shelters or substance use recovery settings). The center strives to serve all, regardless of circumstance. Moen has championed measures developed in collaboration with BCHD to implement appropriate accommodations for the safety and well-being of those who may use opioids, alcohol, or nicotine. Residents have twice daily checks by clinical staff, and if their health becomes compromised in any way, they are immediately transitioned to a hospital setting. The center accommodates individuals, couples, or families who are isolating together. Some floors are used for patients under investigation who have not yet tested positive for COVID-19; once their test results are returned, they are either moved to a positive patient floor or released following CDC guidelines.
"Residential support staff work with hotel staff who go above and beyond to accommodate resident needs. This holistic approach is part of what makes this isolation site uniquely successful," Moen says. "We strive to keep people comfortable and safe while they are here, and this is because we cannot emphasize enough the public health responsibility that we have. As of Aug. 11, we have served 400 people. Every person served equates numerous infections prevented in Baltimore and beyond." According to findings published in The Lancet, swift isolation of COVID-19 positive people may play the largest role in controlling COVID-19 outbreaks.
The registered nurses and clinical support (allied health) team are the bedrock of TRI Center and provide 24-hour, on-site care and support, working hand in hand with nurse practitioners and physicians. In addition to Moen, 13 clinical staff members at the center are UMSON alumni. Until mid-August, when Moen's role became part-time, she served as co-lead of the center in partnership with Kevin Burns, MD, MPH, DTMH, former TRI Center medical director for UMMS.
"Five months ago, there was no facility like this in the United States, and we started quickly due to the immediate crisis that COVID created in Baltimore," Burns says. "Looking at how our clinical team has come together, I can't imagine a better person to lead this project with than Marik. Her background as a teacher and her experience with vulnerable populations in both hospital and community settings has been essential to our success. Our facility combines hospital and community nursing and medicine to care for the people we are helping isolate safely. Our nursing staff has become the backbone of our service."
Also, overseeing operations at the center are Vanessa Augustin, MS '20, RN, nurse manager at the TRI Center; Elise Gillespie, assistant deputy chief of staff, Office of the Mayor, who is leading overall operations at the TRI Center; Robert "Bobby" Harris, CRNP, Baltimore City Health Department, who is serving as the TRI center site director; and Amanda Rosecrans, MD, MHS, Baltimore City Health Department, who is serving as TRI Center clinical director.
To keep employees safe, every patient floor is located within one floor of a personal protective equipment (PPE) donning and doffing station, where providers put on and take off their PPE. A system of plastic-walled antechambers was installed to seal off areas where residents reside. Elevators operate solely within "hot" areas (access to COVID-19 positive residents) or "cold" areas (access to public spaces) so as not to cross-contaminate. A specialty environmental services company provides daily trash removal and disinfection during room turnovers between residents.
"What I am doing is not like anything that I've ever done before, apart from supporting the populations I am familiar with, including persons who are experiencing homelessness and those who are vulnerable to ill health because of conditions of poverty or racial injustice," Moen says. "In sailing the ship as we built it, we created an incredible institution within a matter of days. There was no template, everything was new, from the way isolation zones were created; management of personal protective equipment; how clinical procedures were to occur; coordinating with, at least, three different partners; and meeting residents' unique needs during the challenge of COVID times."
The nurses at the TRI Center are involved in vetting referrals, performing intake assessments, conducting daily in-person resident checks-ins, and making follow-up phone calls when they assist with medical or mental health care needs. They coordinate care for residents such as facilitation of appointments with specialty or primary care providers; coordinate prescription medications for delivery, including opioid medication assisted treatment; and communicate and coordinate with outside health care providers, family members, and support programs. Nurses also provide education about COVID-19 and other health conditions and serve as a supportive and reassuring therapeutic presence. The nurses and clinical support staff are also responsible for assuring infection prevention training for all site staff, procuring and delivering over-the-counter medications and clinical supplies for residents, conducting inventory and materials management, and more.
The collaboration is anticipated to continue as long as the need exists.
---
View more photos: