News Releases
University of Maryland School of Nursing's Daniels Named an INACSL Research Fellow
July 8, 2019
Director of Clinical Simulation Labs to explore psychological safety in simulation education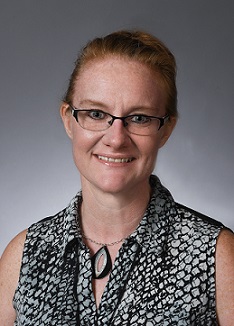 Baltimore, Md. – Amy Daniels, PhD '18, MS '12, BSN '89, RN, assistant professor and director of the Debra L. Spunt Clinical Simulation Labs at the University of Maryland School of Nursing's (UMSON) Baltimore campus, has been named an International Nursing Association for Clinical Simulation and Learning (INACSL) Research Fellow.
Daniels will participate in a web-based fellowship designed to develop future leaders in simulation research. The fellowship provides new researchers an avenue to advance their scholarly work under the mentorship of renowned researchers. Through the fellowship, Daniels will further her investigation into psychological safety, students' perceptions that a particular environment is a place where mistakes can be made in the service of learning, and its impact on learning outcomes in simulation-based education.
"I am extremely honored to be selected for this opportunity," said Daniels. "I am excited to receive mentorship from established researchers whose focus is simulation in nursing education. The outcome of this experience, a fully developed research project that can be submitted as a proposal for simulation research funding, will align directly with my long-term goals to research psychological safety in simulation."
At UMSON, Daniels facilitates simulated educational experiences and oversees operations, curriculum integration, and faculty development in all of UMON's clinical simulation programs in Baltimore. She has taught students using simulation since 2010.
The Debra L. Spunt Clinical Simulation Labs celebrated their 20th anniversary in 2018. In 2004, when UMSON opened its simulated operating room, the total number of sim labs was 24 — the most of any nursing school in the nation. Today, the School has 20 clinical simulation laboratories in Baltimore and eight at the Universities at Shady Grove, and approximately 10% of pre-licensure students' clinical hours in any given course take place in labs. The facilities are increasingly important as UMSON responds to a rising national emphasis on simulated learning to improve nursing outcomes.
INACSL, representing more than 1,800 members from 29 countries, is committed to advancing the science of health care simulation.

# # #
The University of Maryland School of Nursing, founded in 1889, is one of the oldest and largest nursing schools in the nation and is ranked among the top nursing schools nationwide. Enrolling nearly 2,000 students in its baccalaureate, master's, and doctoral programs, the School develops leaders who shape the profession of nursing and impact the health care environment.