News Releases
University of Maryland School of Nursing Faculty Members Awarded Nearly $10 Million in State Education Grants
July 13, 2020
Eight faculty members receive funding to increase nursing capacity in Maryland.
Baltimore, Md. – University of Maryland School of Nursing (UMSON) faculty members have been awarded six Nurse Support Program (NSP) II grants totaling more than $9.6 million. NSP II grants aid in increasing nursing capacity in Maryland by implementing statewide initiatives to grow the number of nurses prepared to serve effectively in faculty roles and by strengthening nursing education programs at Maryland institutions.
Grants are funded through the Maryland Health Services Cost Review Commission and administered by the Maryland Higher Education Commission.
"We are thrilled that UMSON has received NSP II grant support for six significant projects, each of which will help address Maryland's need for a well-educated and well-prepared nursing workforce," said UMSON Dean Jane M. Kirschling, PhD, RN, FAAN. "We are grateful to the Maryland Health Services Cost Review Commission for its generous support of nursing initiatives and to the Maryland Higher Education Commission for its leadership with regard to the NSP II program. Together, we are working to ensure that Maryland's residents have access to excellent health care now and in the future."
The NSP II grants awarded to UMSON faculty beginning in Fiscal Year 2021 include:
Jana Goodwin, PhD, RN, CNE, assistant professor and director of the Bachelor of Science in Nursing (BSN) program, and Maeve Howett, PhD, APRN, CPNP-PC, IBCLC, CNE, professor and associate dean for the BSN program - Entry‐Level BSN Expansion: UMSON at Shady Grove ($1,081,606 over five years)
Using a phased approach, UMSON will increase admission for entry-into-practice BSN students at the Universities at Shady Grove in Rockville, Maryland, from 64 to 100 each semester (fall and spring), growing the UMSON student body at USG by 72 students, which will require additional faculty, staff, classrooms, and simulation facilities. Funding will also be used to add a clinical coordinator position to assist in identifying and credentialing students.
Yolanda Ogbolu, PhD '11, MS '05, BSN '04, CRNP, FNAP, FAAN, associate professor and chair of the Department of Partnerships, Professional Education, and Practice - Nurse Leadership Institute ($1,718,866 over five years)
The Nurse Leadership Institute (NLI) recruits nurse faculty and clinicians to a yearlong program that prepares them to assume leadership positions, facilitate collaborative partnerships between academia and practice, and improve health outcomes for Maryland's citizens. Over the past five years, the NLI has involved a total of 249 nurse leaders (127 fellows and 122 mentors). With this funding, NLI will continue to serve as a statewide resource for developing academic and practice nurse leaders.
Carol A. O'Neil, PhD, RN, CNE, associate professor - Advancing Nurse Educator Skills to Meet the Needs of Tomorrow ($3,987,694 over five years)
With this funding, UMSON's NSP II Cohen Scholars initiative will build on the success of UMSON's Institute for Educator's mission to prepare nurse educators and provide ongoing professional development. This grant will enhance the expertise and resources within the Institute for Educators and improve preparation of nurse educators, nurse faculty, or clinical educators and the quality of nurse education throughout Maryland. This Cohen Scholars initiative will also expand the current scholarship program and formalize a process to mentor and support cohorts of future nurse educators.
Eun-Shim Nahm, PhD '03, RN, FAAN, professor and director, Nursing Informatics master's specialty - Care Coordination Education to Practice Scale Up ($1,343,858 over five years)
With a prior NSP II planning grant, Nahm developed and piloted a Care Coordination/Health Information Technology (CC/HIT) focus area within UMSON's RN-to-BSN program. Responding to high demand, her team then transformed the CC/HIT courses into separate online modules for nurses. With this funding, Nahm's team will now implement CC/HIT's innovative collaboration model, UMNursing Care Coordination Implementation Collaborative, to assess CC/HIT's direct impact on patient outcomes, a joint effort between UMSON and the University of Maryland Medical System hospitals through the institutions' academic-practice partnership, building upon a longstanding relationship between UMSON and the University of Maryland Medical Center.
Amanda Roesch, DNP, MPH, FNP-C, assistant professor; and Ann Felauer, DNP '18, RN, CPNP-AC/PC, assistant professor and director of the Doctor of Nursing Practice Pediatric Nurse Practitioner Acute Care and Primary Care specialties - Head Start Partnership to Expand Pediatric Clinical Opportunities ($918,069 over four years)
Felauer and Roesch will use the grant to expand UMSON's capacity to provide pediatric clinical experiences to its entry-level and Doctor of Nursing Practice (DNP)/advanced practice registered nurse (APRN) students through an innovative existing partnership with Maryland Family Network Early Head Starts and Head Starts in Maryland. This grant will help fill a critical gap in pediatric primary care clinical sites for DNP/APRN students and will offset the reduced size of hospital-based pediatric clinical sites while also providing required examinations and screenings for children enrolled in Early Head Start and Head Start.
Victoria L. Selby, PhD '17, MS '09, BSN '06, CRNP-PMH, PMHNP-BC, CARN-AP, assistant professor - Substance Use and Addictions Nursing Education Implementation ($584,484 over two years)
Substance use disorders are a leading cause of death in Maryland and throughout the United States, having reached crisis proportions. This funding will expand nursing education in substance use and addictions by implementing a focus area for RN-to-BSN students and expanding graduate education in substance use and addictions nursing. This work builds upon UMSON's successful planning grant, supported by a survey of 522 enrolled nursing students that found strong interest in education about substance use and addictions.
Additionally, Crystal DeVance-Wilson, PhD '19, MS '06, MBA, BSN '00, PHCNS-BC, assistant professor, is serving as a consultant on a $146,722 NSP II grant awarded to Morgan State University to support Maryland nursing schools to develop and implement mentoring programs. As part of the grant, DeVance-Wilson is coordinating an online workshop, Mentoring: A Strategy for Enhancing Student Engagement and Success, supported by UMSON's Maryland Nursing Workforce Center. The workshop is the first step in preparing nursing schools across the state to develop and implement mentoring programs designed specifically for their students.
"This diverse array of projects will provide continued progress in a number of important areas," Kirschling said, "including increasing the number of baccalaureate-educated nurses, increasing nursing knowledge regarding substance use and addictions, continuing to foster important collaboration between clinical nurses and academic faculty to improve patient care, expansion of care coordination and the delivery of patient-centered care, providing new opportunities for pediatric clinical nursing education, and facilitating the preparation of future nurse educators through the Cohen Scholarship program."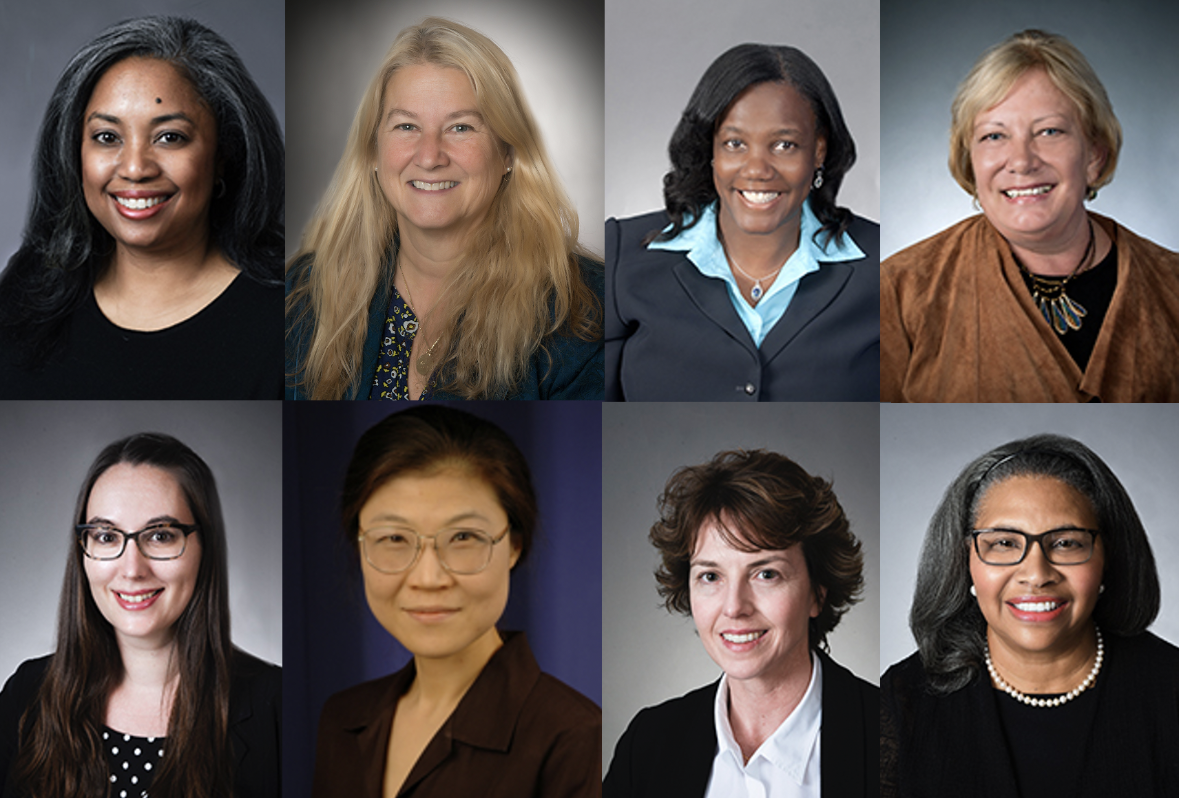 (left to right: Goodwin, Howett, Ogbolu, O'Neil, Roesch, Nahm, Selby, DeVance-Wilson. Not pictured: Felauer.)

###
The University of Maryland School of Nursing, founded in 1889, is one of the oldest and largest nursing schools in the nation and is ranked among the top nursing schools nationwide. Enrolling nearly 2,000 students in its baccalaureate, master's, and doctoral programs, the School develops leaders who shape the profession of nursing and impact the health care environment.