News Releases
In Unique Ceremony, UMSON Celebrates Class of 2020
June 2, 2020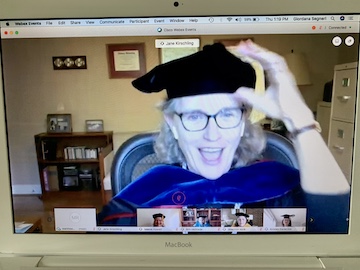 In what Dean Jane M. Kirschling, PhD, RN, FAAN, described as a ceremony that won't soon be forgotten, the University of Maryland School of Nursing (UMSON) recognized its Class of 2020 with an unprecedented virtual conferral of degrees watched by more than 1,100 graduates, faculty, staff, and alumni.
"Although each graduation ceremony is momentous, this one in particular — the first virtual conferral of degrees in our 131-year history — is something that I am sure we will always remember," Kirschling told graduates via Webex in the May 14 ceremony.
The Class of 2020 consisted of 209 Bachelor of Science, 106 Master of Science, three PhD, 104 Doctor of Nursing Practice, and eight certificate graduates.
"Of course, we truly hope that it will be possible to join together at a future date and celebrate in person, but for now, it is important that we go ahead and recognize the achievements of our graduates — especially under such unique and difficult circumstances," Kirschling added.
Nursing, at its very core, is a profession marked by a deep dedication and commitment to ensuring the health, safety, and well-being of patients and communities.
"However, the events of this spring — our national and global struggle to combat COVID-19 — give additional meaning to this dedication," Kirschling continued. "It is a reminder that nursing does not have the opportunity to pick and choose its moments of service, but rather, it must always be at the ready to respond."
She paid special tribute to audience members who have been serving on the front lines of the pandemic, including 107 students, who, after meeting certain criteria, were able to join the workforce prior to graduation. She also thanked graduates who had volunteered to serve in other capacities during the pandemic.
"To all of our students, you have successfully persevered during this semester, completed your studies, and earned your degrees, all while balancing multiple demands and stresses. You have my deepest respect and that of all of us for your efforts and hard work," Kirschling said.
May 2020 graduates were celebrated during a week marking the 200th anniversary of the birth of Florence Nightingale, recognized as the founder of modern nursing. Her protégé Louisa Parsons, a graduate of Nightingale's legendary nursing school, became the first superintendent of UMSON, in 1889.
Bruce E. Jarrell, MD, FACS, interim president of the University of Maryland, Baltimore, also participated in the ceremony, conferring the degrees. As Kirschling pointed out, Jarrell, a skilled metal worker and artist, crafted UMSON's ceremonial mace, with assistance from his daughter, Gwynneth, BSN '06. The mace, usually on stage during the school's Convocation ceremony at Royal Farms Arena, remains on display year-round in the UMSON lobby.
In what has become a familiar scene to anyone working or learning from home during the pandemic, UMSON faculty and administrators also took part in the ceremony, visible in each of their own screens, dressed in full regalia. Associate deans offered congratulatory remarks and expressed hopes for celebrating the students' accomplishments at an in-person ceremony one day.
"Today, it is quite obvious that we are in the midst of an exceptional time, but although COVID-19 brings a particular set of challenges, there will always be challenges of some type during your nursing careers — just as there have been for those who have preceded you," Kirschling said. "I urge you to meet them with the same commitment to patient care and to making a difference in the lives of families and communities that inspired your decision to become a nurse and fuels your passion for nursing."
The ceremony closed with a virtual recitation of the Professional Nursing Pledge by graduates, nurses on the faculty, and nurses in the viewing audience.
"On behalf of the entire University of Maryland School of Nursing, all of us join in celebrating your achievements and we send you forward to serve, knowing that each one of you will contribute to improving the health and well-being of our state, our nation, and our world," Kirschling concluded. "Congratulations, graduates! The world is in your hands!"
View photos from the Virtual Degree Conferral, here. View the May 2020 Graduate Photo Montage, here.