News Releases
Two University of Maryland School of Nursing PhD Students Awarded Sigma Small Grants
May 23, 2019
Funding to aid research aimed at improving health care outcomes for the aging population.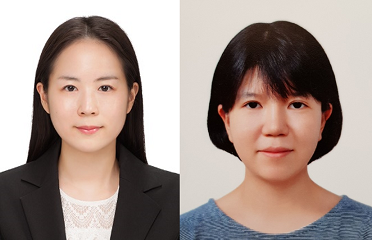 Baltimore, Md. – University of Maryland School of Nursing PhD students Hyojin Son (left) and Jungmin Yoon (right) have been awarded Sigma Small Grants, intended to encourage nurses to contribute to the advancement of nursing through research. Son and Yoon each received about $5,000 in funding to support their proposed research projects.
Son's funding will aid her dissertation examining patient experience using a patient portal, a secure online environment in which patients can view health records and send messages to providers. Nearly 60% of American adults have one or more chronic conditions, emphasizing the need for health information technologies to support patients' self-management. Her research will also compare the difference in perceived usability, self-efficacy, and use of the patient portal between older adult patients recruited from ambulatory care clinics and older adults recruited from communities.
Yoon's dissertation hopes to demonstrate the value of adequate staffing levels and proper training for quality dementia care, necessitated by increasing health care demands from nursing home residents with dementia. In 2014, more than 50% of the 1.4 million nursing home residents nationwide were diagnosed with Alzheimer's disease or other dementias. Yoon's work will examine nursing home deficiencies with regard to inappropriate antipsychotic medication use in relation to staffing levels and nursing home in-service dementia care training.
"We are so proud that two of our PhD students received these Sigma grants, as they are open to all registered nurses with a graduate degree, including faculty from all around the world," said Meg Johantgen, PhD, RN, assistant professor, associate dean for the UMSON PhD program. "Such financial support helps students purchase software, data, and supplies that are essential for their research."
Allocation of Sigma Small Grant funds, provided by the Sigma Foundation for Nursing, is based on the quality of the proposed research, the future promise of the applicant, and the applicant's research budget. In 1936, Sigma became the first U.S. organization to fund nursing research, and from its inception, it has recognized the value of scholarship and excellence in nursing practice.
# # #
The University of Maryland School of Nursing, founded in 1889, is one of the oldest and largest nursing schools in the nation and is ranked among the top nursing schools nationwide. Enrolling nearly 2,000 students in its baccalaureate, master's, and doctoral programs, the School develops leaders who shape the profession of nursing and impact the health care environment.