News Releases
UMSON Commemorates 130th Anniversary Year with Largest Graduating Class in School's History
May 17, 2019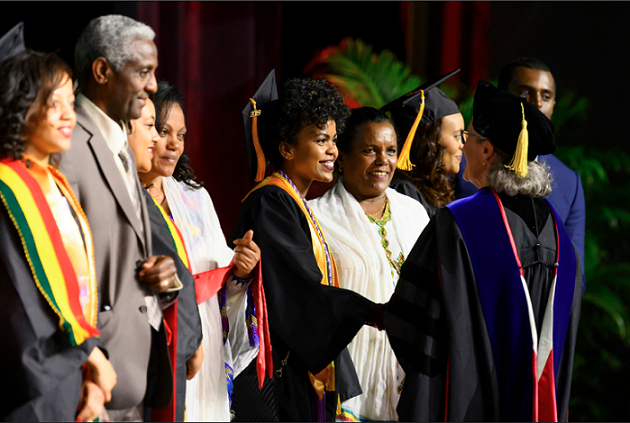 Close to 500 degrees conferred at the 2019 Convocation ceremony.
Baltimore, Md. - Very few professions afford the privilege of having as significant an impact on the lives of individuals, families, and communities as nursing does. That was the message UMSON Dean Jane M. Kirschling, PhD, RN, FAAN, greeted the Class of 2019 with during the University of Maryland School of Nursing's (UMSON) Convocation ceremony May 16 at Royal Farms Arena. At the ceremony 445 degrees were awarded, including 205 Bachelor of Science in Nursing (BSN), 123 Doctor of Nursing Practice (DNP), 105 Master of Science (MS), six Doctor of Philosophy (PhD), and six certificates.
Kirschling welcomed graduates receiving their first degree in nursing to a profession filled with unparalleled possibilities with many diverse paths and opportunities for professional advancement. She thanked the registered nurses who had returned to school to complete their baccalaureate degree for their continued commitment to education.
"To the master's and doctoral graduates, your expanded knowledge and skills extend your professional toolkit – and I know you will continue to truly make a difference in the work you do," she said.
The DAISY Award for Extraordinary Nursing Students was presented to Baltimore student Julie Ann Factor, BSN '19, and Universities at Shady Grove student Jacob Aaron Rodriguez, BSN '19, for their outstanding compassion and care for patients and their families. The award, given in memory of Patrick Barnes, is supported through the DAISY (Disease Attacking the Immune System) Foundation, whose executive director is Cynthia Sweeney, MSN, BSN '76, RN, CNOR, NEA-BC. Factor was recognized for her work providing patient/family-centered care with a calm demeanor, and Rodriguez was honored for his advocacy of patient needs and acute awareness of health and social disparities.
The 2019 Dean's Medal for Distinguished Service, which each year recognizes someone, external to the School, who has demonstrated "an exceptional commitment to advancing UMSON and its mission," was presented to John Bing, CRNA. Bing has represented nurse anesthesia at the state, national, and international levels, with a special focus on nurses of color. He was instrumental in the establishment of the School's Nurse Anesthesia program, now a Doctor of Nursing Practice specialty that is celebrating its 15th anniversary this year, and he formerly served as a chair on the UMSON Board of Visitors.
"He personally solicited support from the Maryland Legislature and secured grant funding to finance the start of the program," Kirschling said. Bing has served as president of the Diversity in Nurse Anesthesia Mentorship program, and has mentored prospective students, leading to admissions in 52 of the 121 Nurse Anesthesia programs nationwide. He also includes nurse anesthesia students on humanitarian missions to Central America, where he has provided medical care to more than 1,000 families whose children were born with a cleft lip/palate.
"To the students of 2019, I'm out in the field doing anesthesia and nursing, there has not been a better time to be a nurse in the history of nursing," Bing conveyed to the graduating class. "You are the bridge between sickness and health and we are depending upon each and every one of you not only to be great nurses, but to make sure you give back to the community."
Student speaker Ann Madden, DNP '19, a graduate of the Nurse Anesthesia program, asked the graduating class to define their experience in just two words.
"For me, those two words are vigilance and gratitude," Madden said. "The education we have all received from the University of Maryland has given us a foundation to be some of the best health care providers in the country. Your hard work and dedication has gotten you this far; let vigilance and gratitude carry you through the rest of your career."
Kirschling concluded the ceremony by reminding graduates, "We find ourselves confronted with great challenges in the health care arena. Each of you will be obliged to confront these challenges in some fashion during your careers, and I can only urge you to meet them with the same commitment to patient care and to making a difference in the lives of families and communities that inspires your passion for nursing itself."