News Releases
University of Maryland School of Nursing Researcher Awarded NIH Funding to Explore Benefits of Service Dog Training Program for Veterans with PTSD
April 9, 2019
Training service dogs for fellow veterans may be rehabilitative for those with PTSD.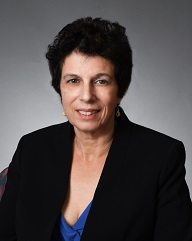 Baltimore, Md. – Erika Friedmann, PhD, associate dean for research, University of Maryland School of Nursing, has been awarded nearly half a million dollars by the National Institutes of Health (NIH) for the research project Evaluating the Efficacy of a Service Dog Training Program for Military Veterans with PTSD. The Exploratory/Developmental Research Grant that Friedmann was awarded with co-principal investigator Cheryl Krause-Parello, PhD, will provide $438,787 in funding over two years.
Post-traumatic stress disorder (PTSD) affects approximately 20% of the United States' 18.5 million U.S. veterans and places them at higher risk for impaired biopsychosocial functioning and comorbidities including major depression, mania, panic attacks, social phobia, and alcohol/drug dependence. In addition, suicide rates are surging among this population, with approximately 7,300 veterans taking their lives each year, more than those who die in combat. Alarming veteran PTSD rates and the disorder's effects create a critical demand for empirically validated treatment programs.
Through a randomized clinical trial, Friedmann and Krause-Parello will examine how training service dogs may be rehabilitative for veterans with PTSD. The research will explore how veterans with PTSD who train service dogs for fellow veterans show a reduction in PTSD symptom severity (PTSDSS) and decreases in stress-related biological and psychosocial outcomes.
"It's so important to develop strategies to help veterans with PTSD integrate into civilian life," said Friedmann. "We're really excited to have the opportunity to research whether training service dogs really helps the veterans who are training the dogs."
If the service dog training program is successful in reducing PTSDSS in veterans with PTSD, it may prove to be a cost-effective rehabilitative opportunity for other at-risk populations.
# # #
The University of Maryland School of Nursing, founded in 1889, is one of the oldest and largest nursing schools in the nation and is ranked among the top nursing schools nationwide. Enrolling nearly 2,000 students in its baccalaureate, master's, and doctoral programs, the School develops leaders who shape the profession of nursing and impact the health care environment.