News Releases
University of Maryland School of Nursing's Piscotty Inducted as a Fellow of The American Medical Informatics Association
April 30, 2019
Piscotty inducted into inaugural class of Fellows for his achievements in applied informatics.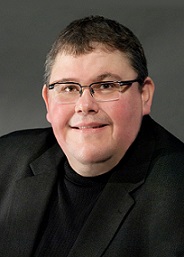 Baltimore, Md. – Ronald J. Piscotty Jr., PhD, RN-BC, FAMIA, assistant professor, University of Maryland School or Nursing (UMSON), has been selected as a member of the inaugural class of Fellows of American Medical Informatics Association (FAMIA) in recognition of his accomplishments in the application of informatics. Piscotty joins the class of 130 fellows, who will be inducted at the American Medical Informatics Association (AMIA) 2019 Clinical Informatics Conference in Atlanta, April 30-May 2, 2019.
The field of informatics began as a science dedicated to evaluating the use of information and communications systems in clinical settings and has grown to include an array of professions that leverage information technology and data systems. Informaticians facilitate discovery and translate research findings; deliver insights that improve patient outcomes; enable better management and prevention of disease; reduce clinician and researcher burdens; and increase value associated with research and health care delivery.
"The implementation of complex health care information technology into our nation's health care system continues at an unprecedented pace," said Piscotty. "While this is a sign of progress in providing health care to our nation's citizens, it also brings enormous risks that must be managed by a highly educated workforce practicing with evidence-based solutions. As a clinical informatics leader, educator, and researcher, I am honored to be an inaugural fellow of our nation's premier health care informatics association."
FAMIA recognizes the contributions and professional accomplishments of AMIA members who apply informatics skills and knowledge to their practice in a clinical setting, in a public or population health capacity, or as a clinical researcher.
Piscotty, whose expertise is in clinical informatics, teaches UMSON master's and Doctor of Nursing Practice students. His research is focused on how health information technology impacts clinical practice, specifically how health care information technology can be leveraged to reduce health care errors such as errors of omission. His research has been funded by several organizations and has been disseminated via numerous peer-reviewed presentations and journal articles. He is involved in several nursing and health care informatics organizations, including AMIA, the Alliance for Nursing Informatics, Sigma, and the Midwest Nursing Research Society. Piscotty currently serves as a steering committee member for the Alliance for Nursing Informatics.
"We congratulate Dr. Piscotty on his selection as a member of the inaugural class of Fellows of the American Medical Informatics Association," said UMSON Dean Jane Kirschling, PhD, RN, FAAN. "This recognition is indeed a tremendous honor. Dr. Piscotty's work on designing health care information systems that enhance provider practice and reduce errors is important to the ongoing improvement of patient care and health system outcomes. His study of errors of omission and the potential role of appropriately designed care reminders holds real promise for addressing preventable adverse events and thereby reducing the human costs and the enormous expense of such errors."
AMIA is the leading professional association for informatics professionals. As the voice of the nation's top biomedical and health informatics professionals, AMIA and its members play a leading role in assessing the effect of health innovations on health policy and in advancing the field of informatics.
# # #
The University of Maryland School of Nursing, founded in 1889, is one of the oldest and largest nursing schools in the nation and is ranked among the top nursing schools nationwide. Enrolling nearly 2,000 students in its baccalaureate, master's, and doctoral programs, the School develops leaders who shape the profession of nursing and impact the health care environment.