News Releases
Maeve Howett Joins the University of Maryland School of Nursing as Professor and Associate Dean for the Baccalaureate Program
February 3, 2020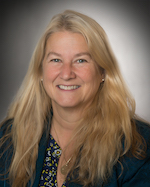 Baltimore, Md. - The University of Maryland School of Nursing (UMSON) has named Maeve Howett, PhD, APRN, CPNP-PC, IBCLC, CNE, as associate dean for the baccalaureate program and professor in the Department of Family and Community Health. UMSON's baccalaureate program offers two Bachelor of Science in Nursing (BSN) options: traditional BSN or RN-to-BSN for licensed RNs.
As associate dean, Howett is responsible for facilitating innovative program development and the integration of technology to shape the educational experiences of entry-level students. She is also developing partnerships with other academic institutions and health care organizations to assist with the transition of transfer students and students who are graduates of associate degree nursing programs. She joins UMSON from the University of Massachusetts Amherst College of Nursing, where she served as a clinical professor and assistant dean of undergraduate education.
While at her former institution, Howett served on the Chancellor's Campus Resiliency Taskforce, the Undergraduate Deans Council, and the Academic Matters Council; as the College of Nursing's representative to the Western Massachusetts Nursing Collaborative; and as a member of the Technology Committee of the American Association of Nurses, Massachusetts Chapter. She received her bachelor's degree in liberal arts, Bachelor of Science in Nursing, master's degree in nursing, and PhD in Nursing from Emory University in Atlanta, where she has also served in a variety of capacities, including clinical professor.
Howett's research efforts include serving as the lead for the Community Outreach and Translation Core on "Center for Children's Health, the Exposome, the Microbiome, and Metabolomics (C-CHEM2)," funded by the National Institute of Environmental Health Science and the Environmental Protection Agency (EPA). She was co-principal investigator for "Analysis of Neonatal Admissions at CHOA: A Pilot Proposal for the Birth and Neonatal Outcomes CORPH from the Clinical Outcomes Research and Public Health Pilot Grants Program," funded by Children's Healthcare of Atlanta. She has also produced more than 50 scholarly journal articles; book chapters; and international, national, and regional presentations.
Howett has received numerous honors and awards, including being selected as a Higher Education Resource Services Leadership Institute fellow, an American Association of Colleges of Nursing Leadership for Academic Nursing Program fellow, and a National Association of Pediatric Nurse Practitioners Health Policy Advocacy scholar. She currently serves on the EPA's Children's Health Protection Advisory Council.
She succeeds Nina Trocky, DNP, RN, NE-BC, CNE, associate professor, who served in the associate dean role from 2016 and was the interim associate dean from 2015 - 16. Trocky has returned to full-time teaching as an associate professor, Department of Organizational Systems and Adult Health. She worked diligently to apply her skills and abilities to the complex task of managing the ongoing growth of UMSON's baccalaureate programs. Under her leadership, UMSON continued to lead the way in addressing Maryland's statewide nursing shortage. She created collaborations with educational partners throughout Maryland, including UMSON's successful Dual-Admission Partnerships program that now reaches into every corner of the state; she supported the launch of the Conway Scholars program; and she developed relationships with UMSON's hospital partners.

###
The University of Maryland School of Nursing, founded in 1889, is one of the oldest and largest nursing schools in the nation and is ranked among the top nursing schools nationwide. Enrolling nearly 2,000 students in its baccalaureate, master's, and doctoral programs, the School develops leaders who shape the profession of nursing and impact the health care environment.