News Releases
State of the School Address Celebrates Accomplishments; Looks to the Future
April 15, 2015
Faculty, staff, students, alumni, and special guests assembled at the School of Nursing on April 8 for Dean Jane Kirschling's first annual State of the School Address. The presentation, "Academic Nursing: Maryland and Beyond," highlighted 2014 faculty, staff, and departmental successes, as well as new traditions, culminating with a look ahead to the future.
Dean Kirschling began with some recent highlights, which included the School's new No. 6 ranking by U.S. News & World Report. Eight of the School's master's specialties/options are ranked in the top 10 and two — Clinical Nurse Leader and Nursing Informatics – are ranked No. 1
Speaking to new traditions, Dean Kirschling noted the creation of the School of Nursing ceremonial mace; the White Coat Ceremonies that started last fall; the Dean's List for BSN students; and December graduation ceremonies, held for the first time in School history.
Enrollment numbers, which remained consistent through 2014, included a 10 percent increase in the entry level and RN-to-BSN admissions figures. Dean Kirschling was also pleased to announce that the School's student body is comprised of 36 percent minorities, 10 percent higher than the national average of minorities in nursing programs.
"Diversity is one of the University's core values and remains a point of pride for the School of Nursing," Kirschling said. "The diversity of our student body differentiates us from many schools of nursing across the country."
Other triumphs for the School were the revision of the curricula across four programs; reopening of the Neonatal Nurse Practitioner specialty (the only one offered in Maryland); and eight pre-doctoral students being named Jonas Scholars. The School also met all standards during its accreditation audit by the Commission of Collegiate Nursing Education; a formal report is expected in late spring.
A first-rate faculty continues to be a hallmark of the School, as five faculty members are serving in leadership roles at the state and national levels, and 12 recently received faculty awards. In addition, faculty members published 15 books, 275 refereed works, 46 non-refereed works, and made 293 presentations.
"An important facet of academic nursing is seeking and developing opportunities for nursing leadership," Kirschling said. "The School of Nursing has a legacy of producing nurse leaders and I'm pleased that we have so many on our faculty."
The School also continues to excel in faculty research and scholarship, as it received $4 million in National Institutes of Health (NIH) grants in 2014. It is ranked 11th nationally in NIH funding and sixth among state institutions.
Staff contributions have also played a significant role in the growth of the School. The Office of Development and Alumni Relations had a banner year. As of March 31, $2.65 million was raised toward a $3.2 million goal—83 percent of the annual fundraising total. Several of the School's staff members received achievement awards; the Student Success Center had its initial Who Will Care grant renewed; and the Office of Communications redesigned the School's website, magazine, and e-newsletter.
Dean Kirschling closed her address with her vision for the future. She'd like to see continued opportunities for nursing academic leadership, grant funding, and student success; recruitment and retention of high-quality faculty; and exploration of new models of care in response to the needs of the community. In addition, she wants the School to take advantage of partnerships with the University System of Maryland; within the University of Maryland, Baltimore; and any technological opportunities that may be possible.
"As we move forward, we must ensure that our goals are in alignment with the core values of the University – accountability, civility, collaboration, diversity, excellence, knowledge, and leadership," she said.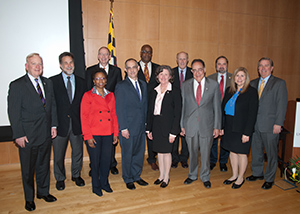 Dean Jane Kirschling with colleagues at her first annual State of the School address.
Back Row: Michael B. "Mickey" Dowdy, MBA, chief development officer and vice president, UMB; Richard P. Barth, PhD, dean and professor, School of Social Work; Mark A. Reynolds, PhD, DDS, dean, School of Dentistry; Roger Ward, EdD, JD, MPA, chief accountability officer, vice president of academic affairs, and vice dean of the Graduate School, UMB; Bruce E. Jarrell, MD, senior vice president and dean of the Graduate School, UMB; James B. Kaper, PhD, senior associate dean for academic affairs, School of Medicine; Front Row: Natalie D. Eddington, PhD, FAAPS, FCP, dean and professor, School of Pharmacy; Donald Tobin, JD, dean and professor, School of Law; Jane M. Kirschling, PhD, RN, FAAN, dean and professor, School of Nursing; Jay A. Perman, MD, president, UMB; Lisa Rowen, DNSc, MS '86, RN, FAAN, senior vice president of patient care services and chief nursing officer, University of Maryland Medical Center; and Jeffrey A. Rivest, FACHE, president and chief executive officer, University of Maryland Medical Center.
State of the School from UMB News on Vimeo.