News Releases
Unraveling Vaccines, Science, and Faith
December 23, 2020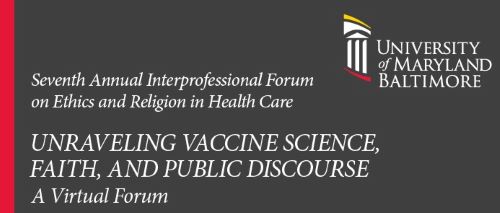 Where do individual rights fit in when public health is threatened? What roles do psychology, faith, and reasoning play in decision-making about whether to trust or reject science? How do different health professions contribute to vaccine development, research, vaccine distribution, and public health education?
Such are the questions that need to be addressed as the COVID-19 pandemic continues, according to speakers at University of Maryland, Baltimore (UMB) Seventh Annual Interprofessional Forum on Ethics and Religion in Health Care. The event explored the topic of vaccines through the lens of bioethics and religion, with perspectives from various health disciplines. (The event took place prior to the Food and Drug Administration's emergency use authorization of the Pfizer/BioNTech SARS-CoV-2 vaccine, which University of Maryland Medical System health care workers have started to receive.)
This year's forum, "Unraveling Vaccine Science, Faith, and Public Discourse," was held virtually for the first time, in keeping with COVID-19 safety precautions. The program featured religious leaders including Rabbi Shmuel Silber of Suburban Orthodox Congregation Toras Chaim in Pikesville and Bowyer G. Freeman, DMin, senior pastor of New St. Mark Baptist Church in Baltimore, as well as medical, legal, and pharmaceutical experts.
Jane M. Kirschling, PhD, RN, FAAN, dean of the University of Maryland School of Nursing (UMSON) and director of UMB's Center for Interprofessional Education, offered welcoming remarks to kick off the event. "Certainly, virtual events such as this one have become standard operating procedure but even though we are growing used to them, they are still a potent reminder of the ongoing dislocations caused by the COVID-19 pandemic," she said.