News Releases
University of Maryland School of Nursing's Moen Receives National Excellence in Advancing Nursing Science Award
January 17, 2019
Award honors doctoral students for advancing ground-breaking research and practice innovations.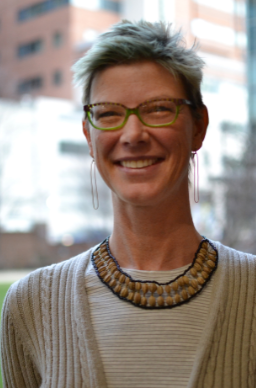 Baltimore, Md. – Marik Moen, PhD '18, MPH, RN, assistant professor, University of Maryland School of Nursing (UMSON), has been named the 2018-19 recipient of the Excellence in Advancing Nursing Science Award by the American Association of Colleges of Nursing (AACN).
Moen will be honored at AACN's 2019 Doctoral Education Conference in San Diego, held Jan. 17-19, where she will present her award-winning study, "Social Stability as a Consistent Measure of Social Context in a Low-Income Population." The award recognizes an outstanding dissertation, by a student in a PhD in nursing or Doctor of Nursing Science (DNS) program, that has the potential to advance science, education, practice and/or policy and adds to the scientific basis for nursing practice.
Moen's dissertation found that social stability (stability in housing, residence, legal relationships, income, and employment over a defined period of time) should be considered in diverse populations to support its associations with health outcomes. Moen's research findings revealed that social stability adequately captured the diversity of social contexts of a low-income population in Baltimore and consistently predicted exposure to sexual risk behaviors, substance use, and violence, especially combinations of these exposures.
"I am honored to have been nominated and received this award. It certainly validates my extensive efforts," Moen said. "As it becomes more expected that health research, practice, and policy account for the influence of social conditions, consistency in the measurement of social context is critical. Social stability (SS) is one such measure. We found that social stability matters, both in quantity — small increases in SS reduced odds of substance use, sexual risk, and violence exposures — and in quality — moving/residential instability was associated with increased risks. Addressing SS can reduce the conditions that favor sex, drug, and violence exposures toward improved individual and population health."
A member of the UMSON faculty since 2007, Moen earned her PhD from UMSON in May and teaches in the Community/Public Health Nursing master's specialty. This program prepares students to assume a leadership role in addressing large-scale health challenges that impact entire communities, with a strong focus on population health, social justice, and evidence-based programs. She also coordinates a program with the JACQUES Initiative at the University of Maryland School of Medicine's Institute of Human Virology to transition hospitalized individuals living with HIV, who are not engaged in outpatient care, back to the community by providing intensive home/community case management and care coordination.
"We congratulate Dr. Moen on being selected for this prestigious national honor. Her research is helping to pave the way for a better understanding of how to assess social determinants of health at the individual level," said UMSON Dean Jane Kirschling, PhD, RN, FAAN. "This award further affirms the rigor and importance of Dr. Moen's work. We applaud her commitment to addressing the health disparities in our society and know that she will continue to contribute to creating a true culture of health for all individuals."
AACN is the national voice for academic nursing representing more than 810 schools of nursing nationwide. It establishes quality standards for nursing education, influences the nursing profession to improve health care, and promotes public support of baccalaureate and graduate nursing education, research, and practice. AACN's vision is to create a health care system driven by the needs of patients and their families in which acute and critical care nurses make their optimal contribution.
# # #
The University of Maryland School of Nursing, founded in 1889, is one of the oldest and largest nursing schools in the United States and is in the top 10 nationally for all of its ranked master's and DNP specialties. Enrolling nearly 1,900 students in its baccalaureate, master's, and doctoral programs, the School develops leaders who shape the profession of nursing and impact the health care environment.