News Releases
UMSON Faculty Brought International Nurses Society on Addictions Conference to Baltimore
November 14, 2019
Assistant professor and director named IntNSA's 2019 Education Award recipient.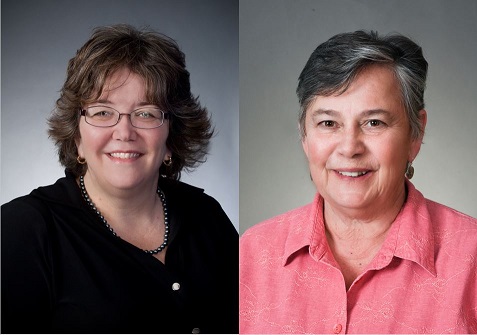 Baltimore, Md. – Two University of Maryland School of Nursing (UMSON) faculty members brought the International Nurses Society on Addictions (IntNSA) 43rd Annual Education Conference to Baltimore at a time when the Baltimore metropolitan area's rate of opioid-involved overdose deaths per 100,000 residents is nearly 70% of the entire state of Maryland's rate, and the state's rate of opioid-related overdose deaths is twice the national rate.
Katherine Fornili, DNP '16, MPH, RN, CARN, FIAAN, (left) assistant professor and president of IntNSA, and Charon Burda, DNP '16, PMHCNS, PMHNP-BC, CARN-AP, (right) assistant professor and director of the Doctor of Nursing Practice Psychiatric Mental Health Nurse Practitioner – Family specialty and director at large of IntNSA, helped bring more than 230 nurses from more than 10 countries to the conference, Oct. 9-12. The event focused on the knowledge, skills, and abilities of nurses who care for people with substance use and addictive disorders and provided a platform for attendees to increase their skills and knowledge for collaborative practice with other health care colleagues to further patient-centered care for those with substance use disorders (SUDs). IntNSA recently achieved affiliate status with the International Council of Nurses.
"Addiction seems to be a major issue here in Baltimore City, and bringing experts from all over the world together to help find solutions is really important to us, to the School of Nursing, and to the work that we do," Burda said.
In 2017, Maryland ranked among the top five states for opioid-related overdose deaths, with 1,985 deaths, or about 32 deaths for every 100,000 Maryland residents. That same year, more than 70,200 Americans died of drug overdoses, making overdose deaths a leading cause of death in the United States, according to the National Institute on Drug Abuse. With 275 million people worldwide using drugs at least once a year, IntNSA's mission is to advance excellence in nursing care for the prevention and treatment of addictions for diverse populations across all practice settings through advocacy, collaboration, education, research, and policy development.
At the conference, Burda received IntNSA's 2019 Education Award, which honors exemplary teacher who bring attention to addictions issues and stimulate knowledge development or research in addictions nursing through teaching. Burda was recognized for her continued work to educate students on the addiction process, to strive for excellence in interdisciplinary events, and to develop an addictions certificate for advanced practice nurses.
In 2010, Burda and Fornili co-developed the course Addictions, Society, and the Role of the Nurse, which has become one of the most popular undergraduate electives offered at UMSON. Students who have taken the course describe gaining an increased awareness of how our society creates a culture of judgment that allows addiction to continue and have reported that working with patients with SUDs is less challenging once they have an increased understanding of the addictions process and are aware of resources and interventions.
"People with substance use disorders recover better when the clinician and the patient can form a therapeutic alliance," Fornili said. "What is really important is the ability of the nurse to instill the expectancy of hope in the patient. People do recover from substance use disorders, but they are more likely to do it when we can help them see that there is a way out of their predicament."
Burda and Fornili have partnered with Victoria L. Selby, PhD '17, MS '09, BSN '06, CRNP-PMH, PMHNP-BC, CARN-AP, assistant professor, and Alison Trinkoff, ScD, MPH, RN, FAAN, professor, on a $140,000 Nurse Support Program (NSP) II grant-funded project Substance Use and Addictions Nursing Education Initiatives, which plans for the expansion of nursing education in substance use and addiction. Selby and Trinkoff conducted an assessment of students' perceived learning needs regarding the care of patients with substance use and addiction; preliminary survey results were presented at the IntNSA conference. They will use the results to inform a SUD focus area for undergraduate nursing students, particularly registered nurses returning to complete the Bachelor of Science in Nursing, and the development of a graduate certificate program in addictions nursing, primarily for nurse practitioners. The NSP II is funded by the Maryland Health Services Cost Review Commission and administered by the Maryland Higher Education Commission.
# # #
The University of Maryland School of Nursing, founded in 1889, is one of the oldest and largest nursing schools in the nation and is ranked among the top nursing schools nationwide. Enrolling nearly 2,000 students in its baccalaureate, master's, and doctoral programs, the School develops leaders who shape the profession of nursing and impact the health care environment.