News Releases
The University of Maryland School of Nursing Names Quattrini Senior Director for the Doctor of Nursing Practice Program
October 29, 2020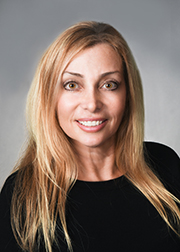 Baltimore, Md. – The University of Maryland School of Nursing (UMSON) has named Veronica Quattrini, DNP, MS '99, BSN '85, FNP-BC, assistant professor, as the senior director for the Doctor of Nursing Practice (DNP) program.
Quattrini is responsible for the day-to-day operations of the DNP program. She also serves as the academic leader overseeing operational aspects of the program, such as admissions, clinical placement and tracking, and simulation.
Quattrini has over 35 years of nursing experience and more than 20 years of experience as a nurse practitioner. She has held several leadership roles throughout her career, including serving as vice president of clinical support and training at ChoiceOne Urgent Care. During her role at ChoiceOne, she was instrumental in developing a clinical partnership between UMSON and ChoiceOne. In 2016, she joined UMSON as an adjunct faculty member, and in 2017, she became an assistant professor in the Department of Family and Community Health. Before joining UMSON, she taught at Thomas Jefferson University and Salisbury University.
Quattrini is active on many committees at UMSON, including the DNP Curriculum Committee, the Advancing Implementation Science Education Leadership workgroup, the Commission on Collegiate Nursing Education workgroup, and the Interprofessional Education Student Activity subgroup. She is also a member of multiple professional organizations, including the Nurse Practitioner Association of Maryland, where she recently completed a term on the financial board of directors and the executive board as treasurer; the National Organization of Nurse Practitioner Faculties; the American Association of Nurse Practitioners; and the American Academy of Emergency Nurse Practitioners.
"Dr. Quattrini's breadth of experience in advanced practice nursing and academia give her the skills to lead the DNP program into the future," said Shannon K. Idzik, DNP '10, MS '03, CRNP, FAANP, FAAN, associate professor and associate dean for the DNP Program.
###
The University of Maryland School of Nursing, founded in 1889, is one of the oldest and largest nursing schools in the nation and is ranked among the top nursing schools nationwide. Enrolling nearly 2,100 students in its baccalaureate, master's, and doctoral programs, the School develops leaders who shape the profession of nursing and impact the health care environment.