Events
Upcoming PBO Center Events
Past Events

Date
Topic
Speaker
June 15, 2023

The Experience of Pain and Emotion: Meeting of Body, Brain, and Mind

Gadi Gilam, PhD

Gadi Gilam is an assistant professor in the Institute of Biomedical and Oral Research, Faculty of Dental Medicine, Hebrew University of Jerusalem, Israel, where he has established the translational Social, Cognitive, and Affective Neuroscience (tSCAN) lab. The lab's primary research focuses on the causes, consequences, and prevention of human suffering related to affective states, such as pain and anger, as they manifest at the intersection of chronic pain and psychopathological conditions. To address these issues, the lab uses a combination of methods from cognitive neuroscience, experimental psychology, and health informatics, while integrating perspectives from emotion science, social psychology, and pain medicine

May 23, 2023

(Un)Learning Pain: Learning Mechanisms of Placebo Effects in Pain

Przemyslaw Babel, PhD

Przemyslaw Babel is a full professor of psychology at Jagiellonian University in Krakow, Poland, where he serves as the director of the Institute of Psychology, the chair of the Research Discipline Council for Psychology, and the head of the Pain Research Group. His research interests include placebo effects in pain, the memory of pain, and psychological factors affecting pain perception. Babel has co-authored nearly 100 scientific publications and over 100 popular science publications. In 2019, he was awarded the status of Fellow by the Association for Psychological Science for his sustained outstanding contributions to the science of psychology.

April 20, 2023
Beyond the Barrier: Skin Cells Actively Participate in Pain

Cheryl Stucky, PhD

Cheryl Stucky is the Marvin Wagner Endowed Chair at the Medical College of Wisconsin (MCW) where she is also Director of the Pain Division of the Neuroscience Research Center. Stucky's lab studies the molecular, cellular and physiological mechanisms of sensation, particularly how we sense touch and pain in the normal, healthy state and in conditions of tissue injury or disease.

March 30, 2023
Neural Pathways, Biomarkers, and Interventions

Tor Wager, PhD

Tor Wager is the Diana L. Taylor Distinguished Professor in Neuroscience at Dartmouth College, and the Director of Dartmouth's Cognitive and Affective Neuroscience laboratory, the Dartmouth Brain Imaging Center, and the Dartmouth Center for Cognitive Neuroscience. Professor Wager's research centers on the neurophysiology of affective processes—pain, emotion, stress, and empathy—and how they are shaped by cognitive and social influences. More information about Dr. Wager and his lab's activities, publications, and software can be found at http://canlab.science.
Society for Interdisciplinary Placebo Studies (SIPS) 2021 International Conference
SIPS 2021 Conference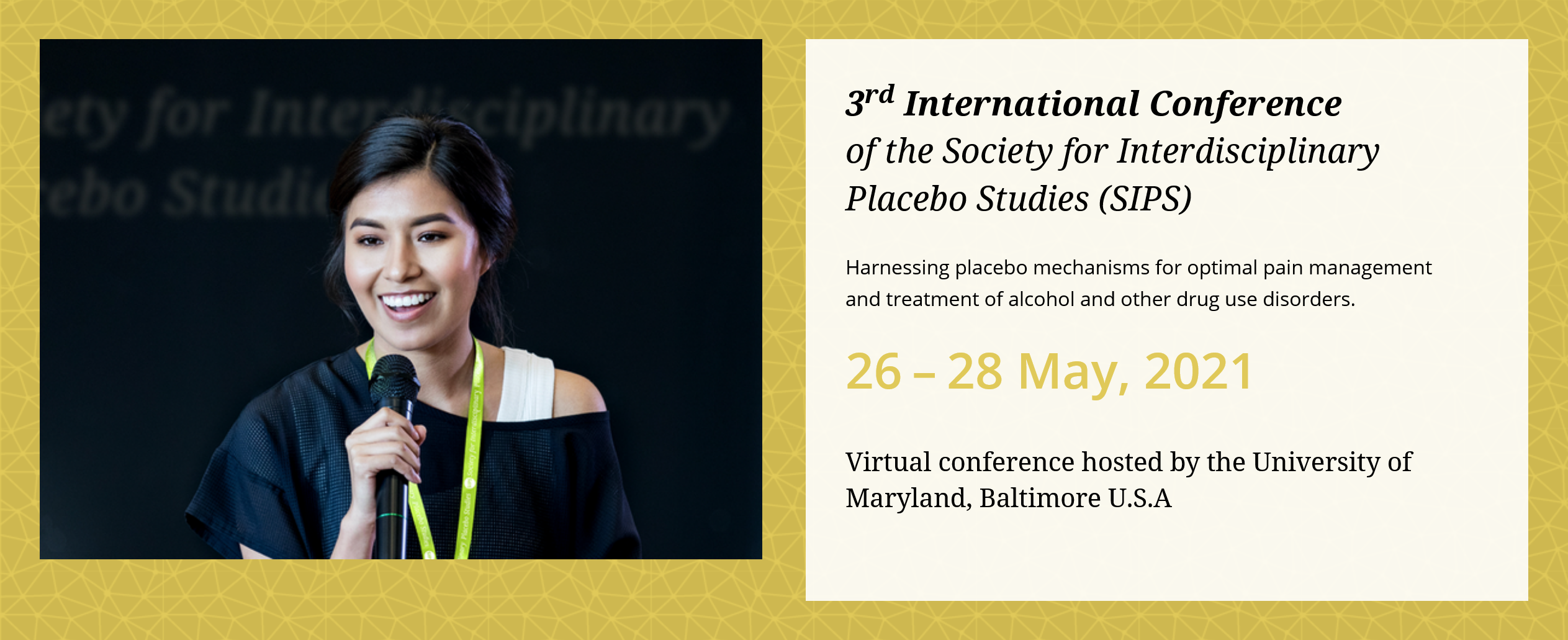 The Third International Conference of the Society for Interdisciplinary Placebo Studies (SIPS): Integrating Current Knowledge on Placebo Research in Pain, Alcohol Use Disorders, and Other Substances Use Disorders was held on May 26, 2021.
The Society for Interdisciplinary Placebo Studies (SIPS) held its 3rd international conference virtually at the University of Maryland, Baltimore, USA (UMB) in May 2021. SIPS was created in 2014, with the mission of promoting interdisciplinary investigation of placebo and nocebo phenomena. The conference was designed to advance placebo research and the application of mind-body mechanisms to the management of alcohol/substance use and pain disorders. Pain and alcohol/substance use disorders are inter-related conditions with large and individually variable placebo effects on disease progression and response to treatments. In double-blind clinical trials for pain and alcohol use disorders, the responses to placebos can be as large as the active treatments leading to a stagnant era for the development of new drugs. The conference provided a collaborative platform to over 480 scientists worldwide including trainees, junior faculty, and healthcare professionals to (1) present and share innovative research findings and theoretical ideas on placebo research, (2) obtain training and education, and (3) advocate for the participation of minorities and women while expanding the U.S. research in the global network of placebo research. The presentations encompassed basic, translational, and clinical research delivered in 8 plenary sessions, 21 workshops, three spotlight sessions on timely topics.