University of Maryland School of Nursing's Ogbolu Named University of Maryland, Baltimore Public Servant of the Year
October 24, 2022
Experience as a neonatal nurse practitioner sent the School of Nursing associate professor on a mission to study health care disparities and the social determinants of health.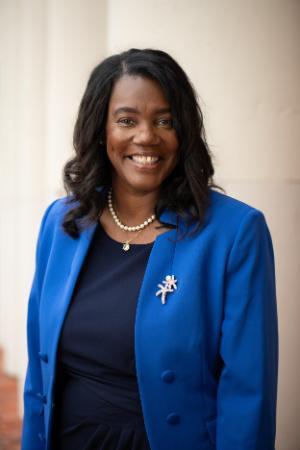 Yolanda Ogbolu, PhD, CRNP-Neonatal, FNAP, FAAN, spent 20 years working as a neonatal nurse practitioner, caring for premature babies in the neonatal intensive care unit (NICU). But rather than merely treating these fragile infants, she decided to find out why so many of them where there in the first place.

"During these two decades, I became increasingly interested in understanding the root causes related to increased risk for premature death and illness for people of color, specifically for babies in the NICU," said Ogbolu, associate professor and chair of the Department of Partnerships, Professional Education, and Practice at the University of Maryland School of Nursing (UMSON). "When I returned to UMB for my doctoral studies, it deepened my understanding and knowledge related to social justice, health equity, and the social determinants of health.
"While I loved looking in the eyes of babies one at a time, I began to believe that a larger and more strategic approach to health inequities could save even more lives. Armed with this knowledge, I have dedicated my career to focusing on the root causes of poor health to improve the lives of families in marginalized communities."
Ogbolu didn't limit her research to babies born prematurely in Baltimore, the city where she was born and raised. She looked at the issues from a global perspective as well. In addition to her research on health disparities in neonatal outcomes, her other funded projects have addressed cultural competency, social determinants of health, and community social isolation. Her international efforts have sought to improve nursing practice in low-resource communities including Nigeria and Rwanda. Trained in dissemination and implementation science at the National Institutes of Health, she has served as an expert consultant for the World Health Organization and others.