University of Maryland School of Nursing Awarded ANCC's Highest Accreditation Distinction
January 11, 2022
ANCC accreditation is valid for four years.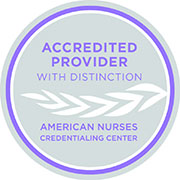 Baltimore, Md. – The University of Maryland School of Nursing (UMSON) has been awarded accreditation with distinction as a provider of Nursing Continuing Professional Development (NCPD) by the American Nurses Credentialing Center's (ANCC) Commission on Accreditation. Accreditation with distinction is achieved by passing the accreditation review without any deficiencies and is the highest recognition that ANCC awards. The accreditation is valid for four years, until November 2025.
The ANCC Accreditation Program identifies organizations worldwide that demonstrate excellence in NCPD. Accredited organizations use evidence-based ANCC criteria to plan, implement, and evaluate the highest-quality NCPD activities. As a result, health agencies, nursing organizations, employers, and continuing education enterprises rely on ANCC accreditation to further advanced nursing practice and improved patient outcomes.
"This accreditation with distinction serves as professional recognition of UMSON's commitment to promote excellence with high-quality professional development activities for nurses," said Lynn Marie Bullock, DNP, RN, NEA-BC, assistant professor and director, Office of Professional Education. "We are committed to providing evidenced-based Nursing Continuing Professional Development activities that are responsive to the rapid changes occurring in health care."
A subsidiary of the American Nurses Association, ANCC provides individuals and organizations throughout the nursing profession with the resources they need to achieve practice excellence. ANCC's internationally renowned credentialing programs certify nurses in specialty practice areas; recognize health care organizations for promoting safe, positive work environments; and accredit providers and approvers of NCPD.
###
The University of Maryland School of Nursing, founded in 1889, is one of the oldest and largest nursing schools in the nation and is ranked among the top nursing schools nationwide. Enrolling nearly 2,100 students in its baccalaureate, master's, and doctoral programs, the School develops leaders who shape the profession of nursing and impact the health care environment.