University of Maryland School of Nursing Assistant Professor Awarded More than $1M in Grants Addressing Communication Needs in Maternity Care
November 16, 2023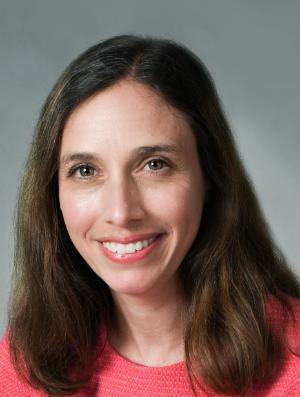 Baltimore, Md. – Rachel Blankstein Breman, PhD '18, MPH, RN, an assistant professor at the University of Maryland School of Nursing (UMSON), has received two grant awards – one for more than $1 million, the other for $60,000 – both of which aim to address the critical need to improve communication in maternity care.
Breman has received an RO1 research project grant of $1,055,563 from the Department of Health and Human Services' Agency for Healthcare and Research Quality. The R01 grant designation is used for mature research projects that are hypothesis driven with strong preliminary data. Breman's project, titled "A Measure for Shared Decision Making in Maternity Care through Communicating CHOICEs: CHildbirth Options, Information, and Person-Centered Explanation," will be funded over three years.
Improving maternity care, including the morbidity and mortality disparities among birthing people, is a national priority, explained Breman, who is the first University of Maryland, Baltimore (UMB) Institute for Clinical & Translational Research KL2 Career Development Awards Program recipient to be awarded an RO1 grant. The KL2 award provides support for clinical and translational research training and career development of researchers campuswide.
U.S. professional perinatal care organizations recommend shared decision-making (SDM) in maternity care as a way to provide person-centered, high-quality care to pregnant and birthing people during their perinatal care. SDM is an essential part of effective communication between the patient and health care team; the care preferences and personal values of the patient are directly integrated into the clinical decision-making process with the health care team. But there is no valid and reliable measure of SDM so that the pregnant person's experience with SDM during their pregnancy and birthing care can be determined. "If there is no patient-reported experience measure for SDM, then there is no way for way for providers to truly know whether or not there was shared decision-making that happened," Breman said.
The main objective of the project is to provide a metric for measuring SDM from the pregnant person's perspective during their prenatal and intrapartum hospital care; this will be achieved by testing the validity and reliability of a revised version of the CHOICEs measure, which Breman previously developed. Pilot data from that effort provided support for the reliability and validity testing properties of the CHOICEs measure, but additional questions are needed to measure SDM comprehensively within the context of maternity care.
"There is a maternal health crisis in the United States, and part of the problem has to do with health care systems and providers not providing person-centered care and listening to pregnant people," said Breman, whose research focuses on maternal health, intrapartum care, SDM, implementation and dissemination research, and outcomes research. "This measure will help those doing research or quality improvement projects aimed at improving communication during pregnancy and birth for better maternal and newborn outcomes.
"The value of having a measure of shared decision-making for maternity care is that we need to have a way to include the pregnant and birthing person's voice in their care," Breman said. "This grant will have the end outcome of an improved patient experience measure for this."
The Revised CHOICEs SDM will be translated culturally and linguistically into Spanish. Breman and her research team plan to recruit 505 people who have given birth within the previous six months through the smartphone apps What to Expect, the Baby Center, and What to Expect Español. To reach populations that do not traditionally participate in research, they will use social networking recruitment through a community-based federally qualified health care center, Mary's Center, which serves more than 65,000 people of all ages, incomes, and backgrounds in the Washington, D.C., metro area.
Through the grant, researchers expect to establish the reliability and validity of an SDM measure in perinatal care in English and Spanish and to determine whether the SDM items perform equally across different clinical situations and demographic groups.
Upon completion of the project, the expected outcome is a reliable and valid revised CHOICEs measure of SDM for general use in perinatal care, with instructions for interpretation of the scores.
Breman also received a one-year $60,000 grant from the Maryland Department of Public Health in collaboration with the Maryland Patient Safety Center and Your Birth Partners, a nonprofit organization. This grant will fund interactive webinars on how to implement trauma-informed care for all birth workers in Maryland.
Using a trauma-informed method of communication during perinatal care can foster trust between patients and birth workers. With improved trust, birth workers can provide better care and offer resources to birthing people and their families that they may not have otherwise offered. Trauma-informed communication methods can also help address the social determinants of health and equity.
"The value of this project is that it will provide the state of Maryland with baseline data about birth workers' knowledge and use of trauma-informed care," Breman said.
Through these webinars, the sponsoring partners will explore what additional information and resources are needed or are available, such as training, hospital policy updates, and increased support within hospitals to address implementation of trauma-informed care.
"Foundationally, all birth workers should use a trauma-informed approach when consulting with their clients and during physical exams," Breman said. "This work will help strengthen what is already being done in clinical care and explore areas for improvement and future implementation so that all birthing people feel safe in perinatal and women's health care settings."
###
The University of Maryland School of Nursing, founded in 1889, is one of the oldest and largest nursing schools in the nation and is ranked among the top nursing schools nationwide. Enrolling more than 2,000 students in its baccalaureate, master's, and doctoral programs, the School develops leaders who shape the profession of nursing and impact the health care environment.