UMSON's Trinkoff Awarded Nearly $2 Million to Examine Electronic Health Record Impact on Nursing Patient Care Quality and Safety
October 21, 2022
Funding supports research that seeks to reduce nursing EHR burden, perceived missed nursing care, medication errors.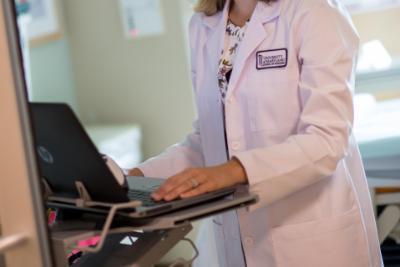 Baltimore, Md. – The University of Maryland School of Nursing's (UMSON) Alison M. Trinkoff, ScD, MPH, RN, FAAN, professor, has been awarded $1.94 million over five years from the Agency for Healthcare Research and Quality (AHRQ) to fund the research project titled "EHR Usability and Usefulness, Perceived Missed Nursing Care, and Medication Errors in Critical Care."
Trinkoff is the principal investigator (PI) on the grant. She is joined by co-investigators Kyungsook Gartrell, PhD '14, MS '10, BSN '05, RN, UMSON assistant professor, and Chixiang Chen, PhD, assistant professor, University of Maryland School of Medicine, in addition to multiple PI Ayse Gurses, PhD, MS, and other collaborators from Johns Hopkins and Vanderbilt universities.
Nurses spend, on average, one-third of patient care time interacting with the electronic health record (EHR), according to Higgins, et al., a 2017 study published in the Journal of Nursing Care Quality. Other studies, including results from an international survey, assert that over 90% of nurses are dissatisfied with inpatient EHR use, burden, and time demands and have concerns about the impact of EHR on patient care quality and safety.
Few studies examine the impact of EHR usage on nurses. Those that have done so typically examine a single aspect of EHR usability or usefulness, and only a small number link nurse EHR usage to patient safety and quality outcomes.
EHR burden and usability concerns along with high workloads, magnified by the COVID-19 pandemic, have led to higher dissatisfaction, turnover intentions, burnout, and more. Trinkoff and team seek to examine EHR usability and usefulness comprehensively and the systems' impact on nurse-perceived patient safety, while accounting for various dimensions of nursing workload and clinical nursing workflow.
The study will identify safeguards to prevent future errors, for three key EHR-supported clinical nursing workflow processes in critical care:
medication administration
post-op admissions
patient discharges/transfers/disposition from critical care.
Data will be gathered at three hospital systems:
University of Maryland Medical System
Johns Hopkins Hospital in Baltimore
Vanderbilt University Medical Center in Nashville, Tennessee.
This study, which addresses AHRQ priorities by identifying potential "root causes of threats to patient safety," will reveal the importance of the human factors approach in designing or implementing EHRs (and other health information technologies).
Collecting and amplifying nurses' voices on EHR usability and usefulness will contribute to strategies for lowering nurses' EHR burden and ultimately improve care by including nurses as stakeholders.
As a nurse and an epidemiologist, Trinkoff has been conducting research for almost 30 years. She focuses on improving the health of nurses and patients, including patient care outcomes in relation to nursing work environments (e.g., staffing, work schedules, job demands, nursing care processes, etc.) and nurse well-being, including intention to leave, job satisfaction, and turnover in acute and long-term care settings.
"Nurses have traditionally provided limited input into EHR design, though they are the heaviest users of these systems," Trinkoff says, and we need to know more about how the usability and usefulness of EHR affects patient safety. Through this critical research," she adds, "we will relate EHR usability/usefulness to nurse-perceived patient safety and examine nurses' care processes to inform future design of interventions."
# # #
The University of Maryland School of Nursing, founded in 1889, is one of the oldest and largest nursing schools in the nation and is ranked among the top nursing schools nationwide. Enrolling nearly 2,100 students in its baccalaureate, master's, and doctoral programs, the School develops leaders who shape the profession of nursing and impact the health care environment.