UMSON Responds to Covid-19 Pandemic with Early Exit for December 2020 Graduates and Early Start to Clinical Experiences for Spring 2021 Graduates
February 9, 2021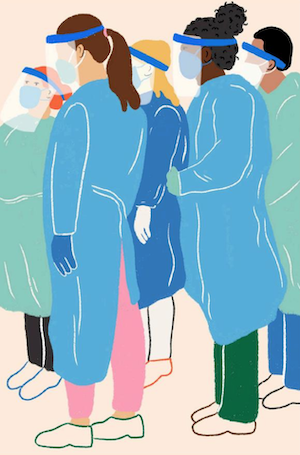 Baltimore, Md. – In response to the COVID-19 pandemic's widespread community transmission across the state and surging metrics across the country, Maryland Gov. Larry Hogan's request, and UMSON's assessment of students' readiness, the University of Maryland School of Nursing (UMSON) for the second time approved an early exit, for entry-into-practice students scheduled to graduate on Dec. 17, 2020. In an effort to bolster the nursing workforce, students approved for the early exit could begin working as nursing graduates.
All graduating Bachelor of Science in Nursing (BSN) students participated in an early exit on Nov. 30, provided successful completion of fall courses. Graduating entry-into-practice Clinical Nurse Leader (CNL) master's students were given the option to exit as early as Dec. 2. To be eligible for the early-exit option, CNL students had to meet specific GPA and academic program requirements. UMSON had 138 BSN and 13 CNL students participate in the late-November early exit. In April 2020, UMSON had 62 BSN and 45 CNL students who took an optional early exit prior to the May 14 graduation date.
To further aid in the COVID-19 pandemic response, and at Hogan's request that nursing programs encourage student engagement in caring for hospitalized COVID-19 patients and in assisting with screenings and vaccines, UMSON strongly encouraged its entry-into-practice students scheduled to graduate in spring 2021 to begin participating in clinical experiences and community/public health rotations as early as mid-December, before the Jan. 28 start of the spring 2021 semester.
This voluntary option was offered to BSN and CNL master's option students, as the second large surge of COVID-19 patients in late 2020 affected nurse staffing at UMSON's partner agencies and institutions. With the surge expected to continue into spring, causing uncertainty regarding availability of clinical sites, UMSON provided this option to students to ensure they can participate in and complete their spring 2021 requirements. UMSON had 65 BSN and 13 CNL students participate in the early clinical experiences.
"I thank the University of Maryland School of Nursing leadership and its students for stepping up and demonstrating their continued active commitment to service in the midst of this pandemic," said James D. Fielder Jr., PhD, secretary of higher education, Maryland Higher Education Commission. "The opportunities for students to accelerate their academic schedule in order to actively contribute during the current COVID-19 surge is deeply appreciated. The state of Maryland thanks you."