UMSON Offers Early Exit to Graduating Students to Bolster Nursing Workforce for the Fourth Time
November 18, 2021
Entry-into-nursing students enter workforce prior to graduation to respond to COVID-19 pandemic.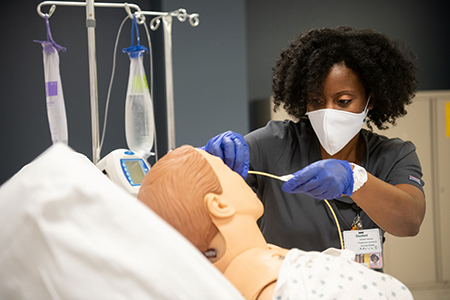 Baltimore, Md. – In the continued response to the COVID-19 pandemic, Maryland Gov. Larry Hogan's request, and UMSON's assessment of students' readiness, the University of Maryland School of Nursing (UMSON) for the fourth time has approved an early exit for entry-into-nursing students who are scheduled to graduate on Dec. 23, 2021. In an effort to bolster the nursing workforce, students approved for an early exit can begin working as nursing graduates.
All 161 graduating Bachelor of Science in Nursing (BSN) students will exit as early as Nov. 19, provided they have successfully completed fall 2021 courses. And 11 graduating entry-into-nursing Clinical Nurse Leader (CNL) master's students opted to exit as early as Nov. 19. To be eligible for the early-exit option, CNL students had to meet specific GPA and academic program requirements. Exits for both groups will continue until the first week of December.
The School of Nursing has collaborated with the chief nursing officers of local major hospital systems such as the University of Maryland Medical System, the Johns Hopkins Health System, MedStar Health, Luminis Health Anne Arundel Medical Center, and Holy Cross Health and has ascertained their need for and interest in hiring nursing graduates. Students who are exiting early have been encouraged to pursue nursing graduate positions at these and other employers to support the state's health care systems through the pandemic.
"We are committed to continuing to partner with Maryland's health care systems to support them in meeting the needs of our state," said Jane Kirschling, PhD, RN, FAAN, the Bill and Joanne Conway Dean of the University of Maryland School of Nursing. "Now in its fourth iteration, our early-exit option has been a vital source of new nursing graduates for Maryland's nursing workforce as area facilities continue to grapple with the ramifications of the pandemic. Nurses throughout Maryland have served courageously on the front lines for over 20 months. I am proud of our entry-into-practice students for their willingness to support these efforts, and I applaud all of our students for their resiliency and for persevering in their studies during a difficult time marked by uncertainty and ongoing challenges. Maryland is well served by all of these truly dedicated individuals."
UMSON will provide a letter to participating students that they can in turn provide to prospective employers stating that they have met all the program requirements and have qualified for and taken an early-exit option from UMSON. UMSON had a total of 372 BSN students and 70 CNL students exit early in spring and fall 2020 and spring 2021.
# # #
The University of Maryland School of Nursing, founded in 1889, is one of the oldest and largest nursing schools in the nation and is ranked among the top nursing schools nationwide. Enrolling nearly 2,100 students in its baccalaureate, master's, and doctoral programs, the School develops leaders who shape the profession of nursing and impact the health care environment.