UMSON Names Selway Director of the Doctor of Nursing Practice Adult-Gerontology Primary Care Nurse Practitioner Specialty
February 20, 2023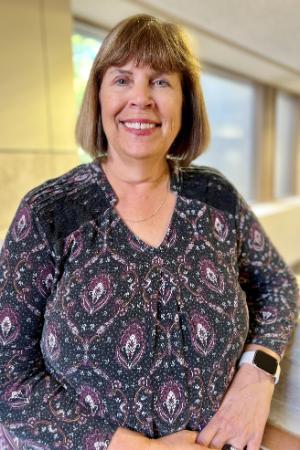 Baltimore, Md. – The University of Maryland School of Nursing (UMSON) has appointed Janet Selway, DNSc, MS '88, AGNP-C, CPNP-PC, FAANP, associate professor, as director of UMSON's Doctor of Nursing Practice (DNP) Adult-Gerontology Primary Care Nurse Practitioner (AGPCNP) specialty.
With a career spanning more than 25 years in nursing education and more than 30 years as a nurse practitioner, Selway joined the UMSON faculty in August 2022 from The Catholic University of America in Washington, D.C. During her time at The Catholic University, she held roles as a tenured associate professor in the School of Nursing, director of the Adult-Gerontology Nurse Practitioner Program, and associate dean of the Master of Science in Nursing program. She has also held faculty roles in primary care nurse practitioner programs at the Johns Hopkins University School of Nursing and at the University of Delaware.
A native Baltimorean, Selway has practiced in community health, gastrointestinal surgery, school health, urgent care, emergency care, and family practice, including with University of Maryland University Family Medicine. During her time in emergency and critical care nursing, she worked at the University of Maryland Medical Center R Adams Cowley Shock Trauma Center.
She has been engaged in funded educational grants as a project director, co-investigator, and consultant and has presented her work at regional and national conferences. She also has extensive experience at the state and national level advocating for policies related to the nurse practitioner scope of practice. Selway is the vice chair/treasurer of the American Association of Nurse Practitioners Political Action Committee and a past president and founding member of the American College of Nurse Practitioners and the Nurse Practitioner Association of Maryland.
The AGPCNP specialty is nationally top ranked by U.S. News & World Report, which listed it as No. 5 in the nation among all ranked nursing schools and No. 1 among public nursing schools in its 2023 edition of "America's Best Graduate Schools." In 2021, AGPCNP graduates earned a 100% certification examination pass rate on the American Academy of Nurse Practitioners Certification Board and the American Nurses Credentialing Center Board exams.
UMSON established its AGPCNP program in 1974 to provide the skills needed to deliver care to adolescents and adults, 13 and older, including an expanding senior population. With today's strain on the physician-based primary care workforce in the United States, adult-gerontology primary care nurse practitioners are highly sought after to fill the gap.
"Dr. Selway brings a wealth of experience and expertise, not only as an educator but as an alumna, clinician, and nationally recognized policy expert related to the nurse practitioner scope of practice," said , professor and associate dean for the DNP program. "We are proud to have her re-join UMSON as a faculty member and as director of a specialty that has continued to rank in the top 10 nationwide. We look forward to Dr. Selway's work in leading this exceptional program and developing nurse practitioners who are in high demand in the workforce."
Selway holds a DNSc from the Johns Hopkins University School of Nursing. In addition, she has an AGPCNP post-graduate certificate from The Catholic University of America; a Master of Science in adult primary care and a post-master's certificate in pediatric primary care, both from UMSON; a Bachelor of Science in Nursing from the College of Notre Dame of Maryland; and a Diploma in Nursing from the Saint Joseph Hospital School of Nursing in Towson, Maryland.
Selway succeeds Brenda Windemuth, DNP, CRNP, who has returned full time to the faculty. Windemuth co-directed the AGPCNP specialty from 2017 - 19 and was the sole director from 2019 - 22.
# # #
The University of Maryland School of Nursing, founded in 1889, is one of the oldest and largest nursing schools in the nation and is ranked among the top nursing schools nationwide. Enrolling nearly 2,100 students in its baccalaureate, master's, and doctoral programs, the School develops leaders who shape the profession of nursing and impact the health care environment.