UMSON Names New Director of Clinical Simulation Labs at the Universities at Shady Grove
June 8, 2022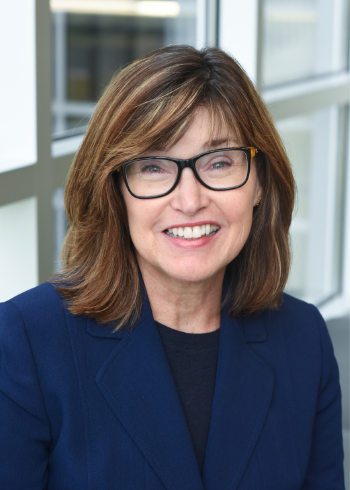 Baltimore, Md. – The University of Maryland School of Nursing (UMSON) has appointed Patricia "Pat" Schaefer, DNP, RN, CNE-cl, CHSE, CNE, clinical instructor, as the new director of the Clinical Simulation Labs at the Universities at Shady Grove (USG).
As director, Schaefer is responsible for the oversight of simulation strategic planning, facilitation, and evaluation and management of simulation resources in the USG Clinical Simulation Labs. Schaefer provides leadership to expand the use of simulation pedagogy in the preparation of future nurses for clinical practice. She also serves on planning workgroups for the current USG building renovation, which will provide a significant expansion of the existing eight lab and simulation spaces. The renovations will result in a dedicated nursing building at the USG location to support the growth of the entry Bachelor of Science in Nursing program and Doctor of Nursing Practice (DNP) Family Nurse Practitioner specialty.
Ensuring students gain essential experiences in simulated environments is critical to preparing a skilled nursing workforce and to improving health care outcomes. Simulated experiences in UMSON's labs allow students to learn and demonstrate mastery of knowledge, skills, and abilities in authentic professional situations while under supervision. These experiences build competency and confidence, clinical skills, and decision-making abilities without the potential for compromising patient safety. They allow students to experience rare and critical events that they may never see during their nursing education but may very well experience in their careers as nurse clinicians. Simulation also plays an important role in allowing seasoned practitioners, such as DNP students, to develop new skills and expand their abilities.
"Simulation is integral to nursing education," said Jana Goodwin, PhD, RN, assistant professor and chair, UMSON program at USG. "We are pleased to have Dr. Schaefer in this role, leading simulation at UMSON at USG as we continue to be innovative and transition to the next era of simulation education."
Schaefer first developed an interest in simulation when she began working at UMSON as an adjunct clinical instructor for nursing fundamental students in 2017. She joined the simulation team at USG full time in 2019 as a clinical instructor. She's received specialized training in simulation through the Penn State College of Medicine's Teaching with Simulation certificate program and has completed the Simulation Train the Trainer Program through the Maryland Clinical Simulation Resource Consortium.
Schaefer began her career as an officer in the U.S. Army Nurse Corps. Her clinical background is in critical care and primary care of underserved populations. She received her master's degree in nursing from the University of Colorado and completed her DNP at Regis College in Massachusetts. Schaefer is a Certified Simulation Healthcare Educator through the Society for Simulation in Healthcare and a Certified Academic Clinical Nurse Educator through the National League for Nursing.
# # #
The University of Maryland School of Nursing, founded in 1889, is one of the oldest and largest nursing schools in the nation and is ranked among the top nursing schools nationwide. Enrolling more than 2,100 students in its baccalaureate, master's, and doctoral programs, the School develops leaders who shape the profession of nursing and impact the health care environment.