UMSON for the Third Time Offers Early Exit to Graduating Students to Bolster Nursing Workforce
April 27, 2021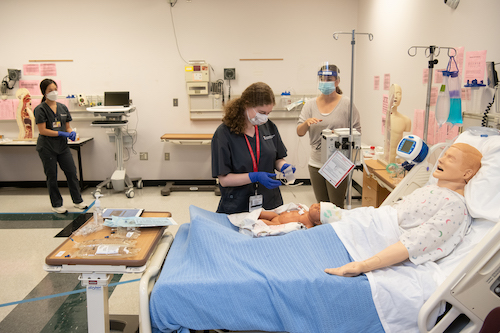 Baltimore, Md. - In response to the COVID-19 pandemic, Maryland Gov. Larry Hogan's request, and UMSON's assessment of students' readiness, the University of Maryland School of Nursing (UMSON) for the third time has approved an early exit for entry-into-nursing students who are scheduled to graduate on May 20, 2021. In an effort to bolster the nursing workforce, students approved for an early exit can begin working as nursing graduates.
All 172 graduating Bachelor of Science in Nursing (BSN) students exited early on April 23, provided they had successfully completed spring courses. And 13 graduating entry-into-nursing Clinical Nurse Leader (CNL) master's students took the option to exit as early as April 23. To be eligible for the early-exit option, CNL students had to meet specific GPA and academic program requirements.
According to the 2020 National Nursing Workforce Survey published in the Journal of Nursing, one in five registered nurse (RN) respondents plans to retire or leave nursing in the next five years. In addition, Nursing Solutions Inc.'s 2021 National Health Care Retention and RN Staffing Report found that in 2020, turnover rate for hospital staff RNs increased by 2.8% to 18.7%. "The U.S. health care system needs to be prepared for large numbers of nurses leaving the profession in the near future," explained Becky Wiseman, PhD, RN, associate professor, chair of the School of Nursing at the Universities at Shady Grove, and director of the Maryland Nursing Workforce Center. "Health care agencies within the state are anticipating upcoming shortages and are taking steps to recruit and orient new nursing graduates. New nursing graduates will be an important strategy to meet the current and anticipated workforce needs."
The School of Nursing has collaborated with the chief nursing officers of local major hospital systems such as the University of Maryland Medical System, the Johns Hopkins Health System, MedStar Health, Anne Arundel Medical Center (Luminis Health), and Holy Cross Health, and ascertained their need for and interest in hiring nursing graduates. Students who are exiting early have been encouraged to pursue nursing graduate positions at these and other employers to support the state's health care systems through the pandemic.
"We are committed to continuing to partner with Maryland's health care systems to support them in meeting the needs of our state," said Jane Kirschling, PhD, RN, FAAN, the Bill and Joanne Conway Dean of the University of Maryland School of Nursing. "Now in its third iteration, our early-exit option has been a vital source of new nursing graduates for Maryland's nursing workforce, which has served bravely on the frontlines of this pandemic for more than 13 months. I am extremely proud of our entry-into-practice students for their willingness join this effort, and I applaud all of our students for their resiliency and persevering in their studies during this tumultuous time. I also salute those who have served in volunteer capacities or continued as practicing nurses while pursuing further education. Maryland is well served by all of these truly dedicated individuals."
UMSON will provide a letter to participating students that they can in turn provide to prospective employers stating that they have met all the program requirements and have qualified for and taken an early-exit option from UMSON. UMSON had a combined 200 BSN students and 57 CNL students exit early in spring and fall 2020.
# # #
The University of Maryland School of Nursing, founded in 1889, is one of the oldest and largest nursing schools in the nation and is ranked among the top nursing schools nationwide. Enrolling nearly 2,100 students in its baccalaureate, master's, and doctoral programs, the School develops leaders who shape the profession of nursing and impact the health care environment.