UMB Students Roll Up Sleeves, Administer Vaccines
January 15, 2021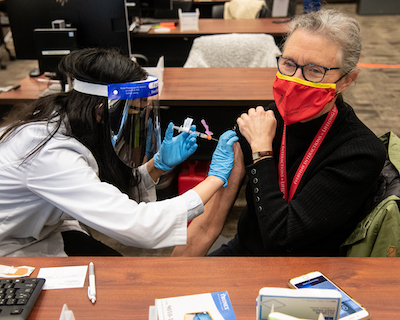 Kelly Doss, a student in UMSON's Clinical Nurse Leader program, also welcomed the chance to be part of the clinic.
"I'm excited to be part of this and very, very happy to have this opportunity," she said. "They were hinting at it for a while with emails from the School of Nursing, and when I learned this is actually happening, I was very happy."
As excited as Doss was to be part of the vaccination process, Kirschling was appreciative for the hands-on learning students are receiving.
"I'm extremely grateful for the partnership between the medical center, the medical system, and UMB in terms of making this a reality. Not only for our employees, but for students, it is extremely important," Kirschling said. "We have 2,000 nursing students at the University of Maryland, Baltimore, and our undergraduate and graduate students and their ability to pull together and to participate in the vaccination process is important, and will help us get it done sooner."
Kirschling said she was eager to get the vaccine and is completing the approval process for becoming a vaccine administrator.
"We all need to do our part in terms of fighting the pandemic, and we have a number of tools that we can use — hand washing, social distancing, masking. Vaccines are another tool to help us get through this pandemic sooner than later," she said. "It's important that we all pull together right now and meet this unbelievable need to have people who can provide vaccinations to those who are willing to take the vaccine."