Twelve UMSON Faculty Members Awarded Funding to Encourage New Approaches Addressing Challenges, Demands Facing Nursing
March 20, 2023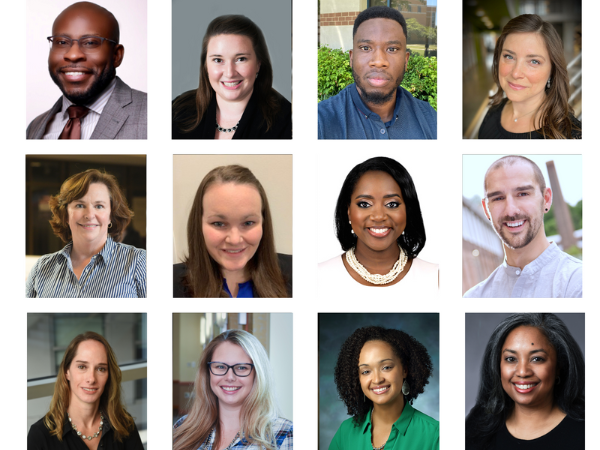 Baltimore, Md. – Eight University of Maryland School of Nursing (UMSON) faculty members have been named Maryland state New Nurse Faculty Fellows, three were awarded Nurse Educator Doctoral Grants (NEDG) for Practice and Dissertation Research, and one received a Nurse Faculty Annual Recognition Award.
These awards are part of the Nurse Support Program II, a statewide initiative funded by the Health Services Cost Review Commission and administered by the Maryland Higher Education Commission.
New Nurse Faculty Fellowship
The New Nurse Faculty Fellowship is for new nursing faculty members and helps cover the expenses of their graduate education. It was designed to assist Maryland nursing programs recruit and retain new nursing faculty, to produce the additional nursing graduates Maryland's hospitals and health systems need. The following UMSON faculty received the maximum award amount of $50,000 for fiscal years 2023 - 27, assuming continuous employment as faculty in good standing and the availability of funding:
Johnny Gayden, DNP, MS '14, BSN '10, CRNA, assistant professor
Samantha Hoffman, MS '16, CPNP-PC, simulation training specialist
Orane Mason, MSN, RN, clinical instructor
Melissa McClean, MSN, ANP-BC, NP-C, ACHPN, clinical instructor
Margaret McElligot, MSN, RN, CHSE, assistant professor
Charlette Pace, DNP '20, PNP-AC, assistant professor
Krista Roberts, DNP, FNP-BC, assistant professor
Elias Snyder, MS '14, FNP-C, ACHPN, clinical instructor and director, Office of Global Health
NEDG for Practice and Dissertation Research
The NEDG for Practice and Dissertation Research provides up to $60,000 to nurse faculty currently enrolled in or who have recently completed a doctoral degree and helps cover costs associated with their graduate education. These awards are contingent upon degree completion and employment as a faculty member. The following UMSON faculty members received NEDG awards:
Jennifer Dalton, MSN, RN, CNE, manager, simulation coordinator
Jacquelyn "Jackie" Ryer, MSN, AG-ACNP, CCRN, clinical instructor
Rhea Williams, DNP '22, MSN, CNM, clinical instructor
Nurse Faculty Annual Recognition Award
Jana Goodwin, PhD, RN, CNE, assistant professor and chair of the UMSON program at the Universities at Shady Grove (USG), has been awarded a Nurse Faculty Annual Recognition Award. Deans and directors of Maryland nursing programs may nominate one nurse faculty member annually. As chair of UMSON at USG, Goodwin is responsible for the oversight and growth of the Bachelor of Science in Nursing program and Doctor of Nursing Practice Family Nurse Practitioner specialty, the two programs UMSON offers at USG. She was recognized for demonstrating excellence in leadership and management as well as teaching, impacting students, engaging in the life of the School, and contributing to the profession as a nurse educator. This award, for experienced nursing faculty members, provides $10,000.
The Nurse Support Program II helps increase Maryland's nursing capacity by supporting initiatives that advance the recommendations outlined in the Institute of Medicine's Future of Nursing reports.
# # #
The University of Maryland School of Nursing, founded in 1889, is one of the oldest and largest nursing schools in the nation and is ranked among the top nursing schools nationwide. Enrolling nearly 2,100 students in its baccalaureate, master's, and doctoral programs, the School develops leaders who shape the profession of nursing and impact the health care environment.