Schum Named Associate Dean for Student and Academic Services at UMSON
August 19, 2022
She will oversee admissions and student scholarships, academic and career services, and registrar and student placements.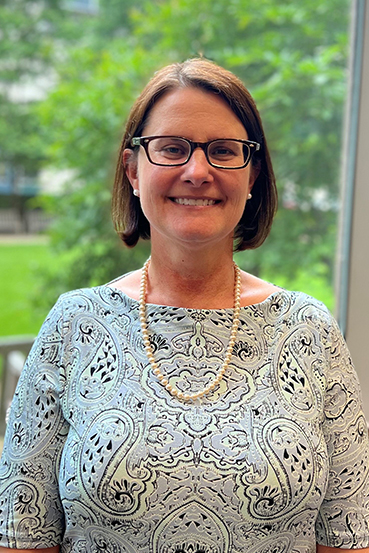 Baltimore, Md. – The University of Maryland School of Nursing (UMSON) has appointed Jennifer A. Schum, PhD, as associate dean for student and academic services. In this role, Schum is responsible for ensuring the effective delivery of a range of services, including admissions, student success support, career development, financial planning, registrar services, and enrollment management. She oversees the Office of Student and Academic Services, which encompasses the Office of Admissions and Student Scholarships, the Office of Academic and Career Services, and the Office of the Registrar and Student Placements.
Schum joins UMSON from Hood College in Frederick, Maryland, where she served as dean of student success. Hood College is a coeducational, independent, liberal arts college with more than 2,000 students, 39% of whom self-identify as members of underrepresented racial or ethnic populations. In that role, Schum provided leadership for academic support, student success initiatives, and faculty advising and oversaw campuswide retention initiatives.
Prior to her tenure at Hood College, Schum served as associate dean and then interim dean of University College at North Carolina Central University, a historically Black university, where she led an academic advisory and testing center with a staff of 25. Earlier in her career, she was associate director, academic and career planning at Meredith College in Raleigh, North Carolina, where she led a conditional admissions program for adult women and led faculty advisor development efforts. Schum began her higher education career as an academic advisor at Bellarmine University in Louisville, Kentucky. Prior to her work in higher education, she provided rehabilitation counseling for persons with brain injuries in inpatient, outpatient, and community programs.
"I am confident that Dr. Schum will an asset to the School of Nursing, building on our commitment to providing an excellent array of services to our students from admissions through graduation and ongoing career development," said Jane Kirschling, PhD, RN, FAAN, the Bill and Joanne Conway Dean of the University of Maryland School of Nursing. "Dr. Shum brings considerable expertise in managing the complex operations required to support a large and diverse student population across degree programs. She will also foster continued innovation as we respond to the ever-changing needs of our students and support the next generation of nursing professionals."
Schum earned master's and doctoral degrees in counseling and personnel services – college student personnel from the University of Louisville; a master's in clinical psychology from Spalding University, also in Louisville; and her BS in Psychology from James Madison University in Virginia. She is active in several national and regional conferences and professional associations, including having served on the American College Personnel Association's Directorate for the Commission for Academic Support in Higher Education and on the Small Colleges and Universities Steering Committee of the National Academic Advising Association.
# # #
The University of Maryland School of Nursing, founded in 1889, is one of the oldest and largest nursing schools in the nation and is ranked among the top nursing schools nationwide. Enrolling more than 2,100 students in its baccalaureate, master's, and doctoral programs, the School develops leaders who shape the profession of nursing and impact the health care environment.