Schneidereith Inducted as Fellow of the Society for Simulation in Healthcare
February 17, 2023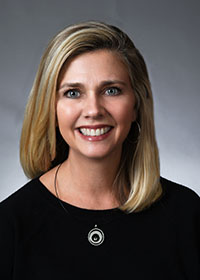 Baltimore, Md. - The University of Maryland School of Nursing's (UMSON) Tonya Schneidereith, PhD, CRNP, PPCNP-BC, CPNP-AC, CNE, CHSE-A, ANEF, FSSH, FAAN, associate professor, has been inducted as a Fellow of the Society for Simulation in Healthcare (SSH). She and nine others were recognized in January at the International Meeting on Simulation in Healthcare, bringing the total number of SSH fellows to 101.
SSH is the largest health care simulation organization in the world, with 4,700 members in more than 60 countries. Schneidereith is the first nurse in Maryland to be named a Fellow of the SSH, an honor that recognizes substantial and sustained contributions to the field of health care simulation. The SSH Fellowship is awarded to practitioners, researchers, administrators, clinicians, operations specialists, and educators globally who have built a strong foundation in simulation. SSH Fellows are selected through a rigorous peer-review process that evaluates their work and contributions in health care simulation and to the SSH.
Schneidereith is a nurse educator, leader, and entrepreneur with more than 30 years' experience in health care and academic settings. She began her career as a pediatric nurse and became one of the first pediatric critical care nurse practitioners in the United States. At UMSON, she is a full-time simulation educator in the Debra L. Spunt Clinical Simulation Labs.
UMSON's Clinical Simulation Labs opened in 1998 as part of the 154,000-square-foot new School of Nursing building. The National League for Nursing described them as the "preeminent nursing student labs in the world." UMSON was the first nursing program in Maryland accredited by SSH. Today, 10% of UMSON pre-licensure students' clinical hours take place in UMSON's clinical laboratories, which include 20 in Baltimore and eight at the Universities at Shady Grove in Rockville, Maryland. The labs allow students at all levels, including doctoral students, to learn through experiences they may never see during their nursing education but may encounter in their careers as nurse clinicians.
Schneidereith is certified as an advanced healthcare simulation educator. She is also a Fellow of the Academy of Nursing Education and of the American Academy of Nursing. She leads and collaborates on projects for the National League for Nursing, the International Nursing Association for Clinical Simulation and Learning, the National Organization of Nurse Practitioner Faculties, the Global Network for Simulation in Healthcare, and SSH. She is a founding member of the NONPF Simulation Committee and served as associate editor for the first NP Simulation Guidelines and Best Practices. In 2020, she was trained as an advanced instructor through the Center for Medical Simulation and served as the editor for the Annual Review of Nursing Research: Healthcare Simulation.
"I am honored to be recognized for my contributions to health care simulation," Schneidereith said. "Teaching current and future nursing professionals through high-quality, simulation-based education is unparalleled, and I am humbled to have a small role in shaping the care that impacts patient safety."
Schneidereith joined the UMSON faculty in 2018 as an associate professor. She earned a PhD in Pharmogenetics/Nursing from Johns Hopkins University, a Master of Science in Nursing in pediatric critical care clinical nurse specialist/nurse practitioner from the University of Pennsylvania, and a Bachelor of Science in Nursing from Florida State University. She is currently enrolled in the Executive Master of Business Administration program at the University of Maryland, College Park.
###
The University of Maryland School of Nursing, founded in 1889, is one of the oldest and largest nursing schools in the nation and is ranked among the top nursing schools nationwide. Enrolling nearly 2,100 students in its baccalaureate, master's, and doctoral programs, the School develops leaders who shape the profession of nursing and impact the health care environment.