Nursing Partnership Provides Crucial Health Resources
March 20, 2023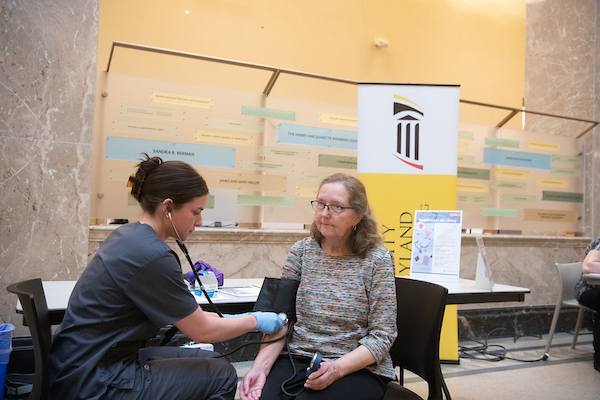 On a Wednesday afternoon in March, University of Maryland School of Nursing (UMSON) Bachelor of Science in Nursing student Oyindamola Adewara sat with a handful of other students at the Waverly Library Branch of the Enoch Pratt Free Library, offering blood pressure checks, health screenings, and more to library patrons.
While the students have only recently started offering these services as part of a new initiative that began at the start of the spring semester, they are already making a difference in people's lives.
"Giving back to the community is one important thing that we need to know as nurses. It's not just about working in the hospitals. There are people out there that are looking for help. Some people don't even have a primary care provider, some don't even have health insurance," Adewara said.
There was a patient just that morning, she added, who was asking for free mental health services.
"And we were able to do that," Adewara added.
A community partnership between UMSON and the Pratt Library — the first of its kind in the state, which embeds nursing students within library branches — is providing these crucial free services to the community.