Nursing Informatics Plays Prominent Role in Pandemic
August 6, 2021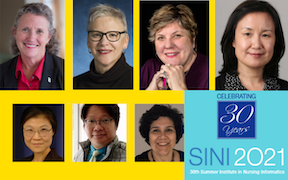 The University of Maryland School of Nursing's (UMSON) Summer Institute in Nursing Informatics (SINI) offered its 30th annual conference virtually July 15-16 with the theme "Real-World Evidence and the Changing Landscape of Health Informatics." With an undertone of celebrating its history, which is deeply entwined with the history of UMSON's Nursing Informatics master's program, SINI also focused on the future by reflecting on lessons learned during the COVID-19 pandemic.
Barb Van de Castle, DNP '14, ACNS, OCN, RN-BC, UMSON assistant professor and chair of this year's institute, welcomed more than 200 participants from around the world and said she hoped SINI would serve "to nourish, to challenge, to stimulate, and stretch your thoughts." Jane M. Kirschling, PhD, RN, FAAN, the Bill and Joanne Conway Dean of the University of Maryland School of Nursing, thanked the 17-member planning committee, comprising UMSON faculty and staff in addition to informatics academicians and clinicians from a variety of organizations, and welcomed all attendees.
"The Summer Institute has a long and distinguished history of engaging both leaders in informatics and those who are new to the field," she said. "The early days of nursing informatics were reflected in the shape of the earliest Summer Institutes." She explained that UMSON was the first school in the world to offer a master's specialty in nursing informatics, in 1988, followed by its groundbreaking offering of the world's first PhD specialty in informatics, in 1991.
"Today, as we think about the challenges facing nursing and health care systems, disparities are at the forefront," she said, reinforcing a primary theme of the National Academy of Medicine's recently released report, The Future of Nursing 2020-2030: Charting a Path to Achieve Health Equity. "Today's informatics holds the promise of helping to address these disparities. It is an exciting and challenging time with tremendous opportunities and complex questions. This is nothing new for informatics."