Moving Beyond the Pandemic to Innovation and Discovery
May 20, 2022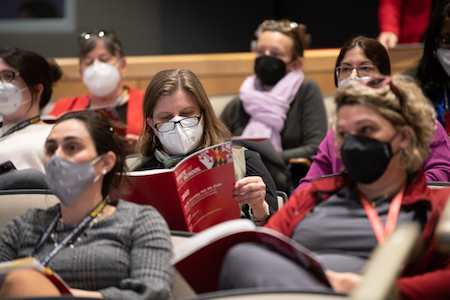 Harnessing lessons learned during the pandemic. Maximizing demonstrated resiliency. Expanding the capacity for pivoting and innovation. Continuing to align with the University of Maryland, Baltimore's (UMB) mission of improving the human condition. All are areas of focus as the University of Maryland School of Nursing (UMSON) celebrates the past year and looks forward to the year ahead, said Jane M. Kirschling, PhD, RN, FAAN, the Bill and Joanne Conway Dean of the School of Nursing, as she delivered her 2022 State of the School address in Baltimore on April 28.
Speaking to an audience of UMB leadership; UMSON faculty, staff, and students; and invited guests, Kirschling outlined highlights in the areas of education, faculty research and scholarship, collaboration, and community engagement.
She noted that in 2021, UMB began work on a new strategic plan that will be in place until June 30, 2026. This new UMB plan, completed and released in late 2021, informs and guides the individual strategic plans developed by each of the seven schools and the major administrative units of the University.
"This planning process is a reminder of the ways in which we are one University — and how the mission, vision, and, goals that we share as a University inform and guide our work as the School of Nursing," she said. "As I prepared for this presentation and thought about the content of the videos that you will see during the course of my remarks, I was struck once again by how much our work as a School reflects the overarching mission of our University — to improve the human condition and serve the public good of Maryland and society at large through education, research, clinical care, and service. As you listen today, I am sure you will have a strong sense of how our shared purpose and commitment, and the core values that we hold in common, shape our individual and collective efforts."