Launch of $2.4M W. Baltimore Grant Project RICH in Meaning
October 19, 2022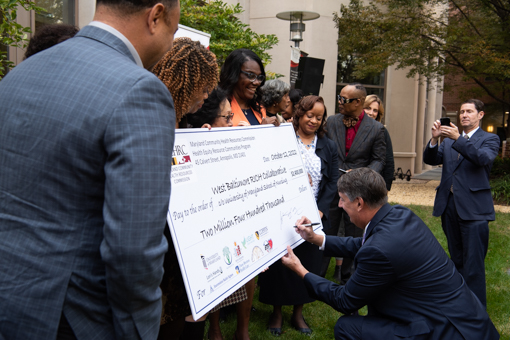 Under blue skies on a crisp fall day, state leaders, educators, researchers, and representatives from more than a dozen community organizations gathered Oct. 12 on the lawn of the University of Maryland School of Nursing (UMSON) for a ceremonial presentation of a $2.4 million check, kicking off a long-term grant to address health disparities in West Baltimore.
"It's really exciting to see everybody," said the grant's principal investigator Yolanda Ogbolu, PhD '11, MS '05, BSN '04, CRNP-Neonatal, FNAP, FAAN, welcoming the 50-plus attendees gathered to celebrate the launch of the West Baltimore RICH (Reducing Isolation and Inequities in Cardiovascular Health) Collaborative, funded by a Pathways for Health Equity Grant from the Maryland Community Health Resources Commission (CHRC). "I can't believe we've been working together for over 18 months. And many of us have never seen each other because of COVID."
The West Baltimore RICH Collaborative seeks to achieve positive health and social impact in the University of Maryland, Baltimore's West Baltimore neighborhood by bringing partner organizations together to advance common interventions for improving hypertension outcomes and social isolation. The collaborative comprises community-based organizations, faith-based organizations, academic institutions, and health care organizations, all working together to address hypertension and social isolation in four ZIP codes in West Baltimore, selected due to substantial race-based disparities in the represented areas.