Innovative Leadership Focus of UMBrella Symposium
March 10, 2023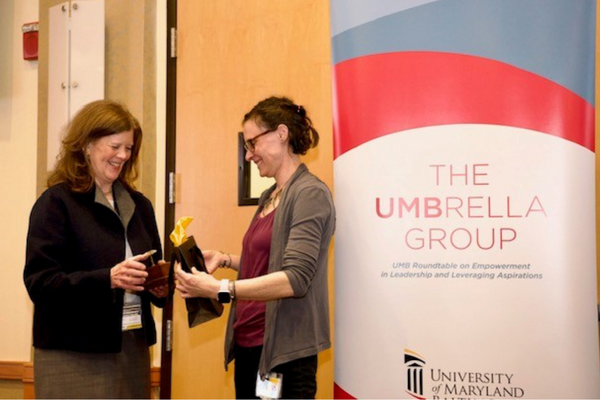 TRUST. PIE. FEAR. UMBrella.
They may seem like everyday words, but during the University of Maryland, Baltimore (UMB) Women's History Month Symposium on March 8 — International Women's Day — those acronyms took on important meanings.
The symposium was broken into a virtual morning session and an afternoon session held in person for the first time since 2019. The event was canceled in 2020 as the COVID-19 pandemic began and held virtually the past two years.
The morning session kicked off with UMB President Bruce E. Jarrell, MD, FACS, welcoming the nearly 200 participants. "Not only do we celebrate the achievement of women, but we also try to provide them with additional skills to improve their personal life, their professional career, their leadership skills — anything it takes to champion women and see them become successful. Of course, that's the kind of university I want UMB to be for everyone," he said.
Jennifer B. Litchman, MA, senior vice president for external relations, UMB, and founder and chair, UMBrella Group, which sponsors the symposium, discussed the theme of the event by saying, "There's still much more work to be done. And that's why we're here today. Today is all about envisioning the possibilities for innovative leadership and putting those possibilities into practice."